About 10 kids tossed around a beach ball in the shallow end of an East Lawrence neighborhood pool one afternoon last week while those a bit older took turns doing canonballs off of the diving board.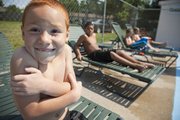 A few parents sat on loungers applying sunscreen, watching their kids, and talking through the noise of the radio playing in the background.
At 2119 Maple Lane, the pool, named the County Fair Swim Club, acts as a gathering spot for those who live in the area near Kennedy School.
Haley Daugherty, a resident of east Lawrence, has taken her four kids, ages 9,8, 6 and 3, to the small community pool nearly every day this summer.

"We definitely wouldn't have known as many people in the neighborhood if we wouldn't have come here," Daugherty said. "You can really get to know the other kids and parents that come here every day."
Bringing the community closer together is why Missi Pfeifer has worked for 13 years to keep the pool open.
Pfeifer grew up swimming at the County Fair Swim Club and now runs it with the friends she met there.
The group usually hosts small fundraisers throughout the year to operate the pool, which takes about $10,000 annually. But this year, the County Fair Swim Club was selected as the beneficiary of Lawrence's St. Patrick's Day Parade, which raises money to donate to local nonprofits.
To thank the parade organizers for the $15,000, Pfeifer painted a large shamrock at the bottom of the baby pool.
"It's a godsend," Pfeifer said. "This is our summer home. Nobody really knows what it means to the neighborhood, but I do. I grew up here. I don't think people know how much this means to some of the kids."
On average, about 50 people go to the pool each day, Pfeifer said. On weekends and days over 90 degrees, that number doubles.
Rachel Loder, who swam in the pool when she was a kid in the '80s, now accompanies her own children, a 16-year-old and a 4-year-old. For Loder, it has been a place to spend hot summer days for the past 25 years.
"It's a nice community within a community," Loder said. "It's a safe place for kids to hang out, and we're on a side of town where there are quite a few kids and not a lot for them to do."
The small area has a pool that is 9 feet at its deepest, a baby pool, restrooms and a concession stand. It is open 1-8 p.m., and a lifeguard is always on duty. It is open to the public, and admission is $2, or $1 after 5 p.m.
Copyright 2018 The Lawrence Journal-World. All rights reserved. This material may not be published, broadcast, rewritten or redistributed. We strive to uphold our values for every story published.