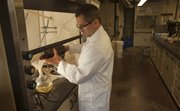 Contact KU and higher ed reporter Sara Shepherd
Have a tip or story idea?
---
More stories
It's a tough enough task to guess how Kansas University's campus might need to change to teach future students who are now in high school, or even perhaps middle school.
But the consultants working now on a KU master plan are thinking beyond that: What about future Jayhawks who are still toddlers? What will they need on campus? And what will KU scientists be researching by then?
These are the sorts of questions on the minds of the consultants forming KU's first new master plan since 1997. The master plan will be a map for how the KU campus will serve the university over the next 10 or 15 years.
KU has a $1.17 million contract with Norfolk, Va.-based planning firm Hanbury Evans Wright Vlattas & Co. to help develop the plan, and the yearlong process should be done sometime in December.
They'll have to consider factors such as how technology will change how students learn over the next decade-plus, what kind of space KU researchers will need, and what continued growth on KU's West Campus will mean for the campus as a whole.
One thing is clear, said Jim Modig, KU's director of Design and Construction Management: KU's going to need more space.
In fact, according to national standards, KU has a shortage of about 130,000 usable square feet on the Lawrence campus right now.
"That was kind of a surprise to us," Modig said.
Expanding westward
The master planners are working with projections for 12 percent growth in undergraduate enrollment and 22 percent growth in graduate enrollment over the next 10 years, bringing the Lawrence campus to about 26,000 students total. That would call for about 600,000 more usable square feet, Modig said. (The campus has about 5.7 million square feet of assignable space right now.)
Though some additional space is coming on the main part of the Lawrence campus — including new buildings for the School of Business and the School of Engineering — things are getting pretty crowded. That means a lot of the growth will need to happen across Iowa Street on KU's West Campus.
"The West Campus and other properties come into a much, much higher level of importance than they've had in the past," said John Gaunt, dean of KU's School of Architecture, Design and Planning and part of a steering committee for the master planning process.
That creates a tricky issue, Modig said. Right now, the West Campus contains mostly research labs and standalone programs — the School of Pharmacy, the Lied Center, the Dole Institute of Politics.
But if more and more growth occurs, it might call for more of a connection between the two sections of campus than what exists now: a single bridge over Iowa Street. So planners are pondering how, if at all, the two campuses could someday become one.
"If we are one campus, what are the possibilities for the university at that point?" Modig said.
More room for research
Planners also are projecting a 40 percent increase in research space over the next 10 years.
As the KU faculty expands — especially in the School of Engineering — and leaders continue to improve KU's research reputation, labs will be in high demand, said Joe Heppert, an associate vice chancellor for research and graduate studies.
Right now, many of KU's research labs sit in old, outdated buildings. Lindley, Malott and Haworth halls, three buildings filled with science labs, were built in the 1940s, '50s and '60s, respectively.
"The laser didn't exist when many of those buildings were built," Heppert said, not to mention a variety of other modern-day technologies. Planners will have to determine whether KU might be better off renovating those labs for future use, or building entirely new ones elsewhere.
And the classrooms of the future will look different, too. Introductory classes at KU are shifting from traditional lectures to "hybrid" formats with more online materials and small-group activities. That means more 300-person lecture halls are not likely to be in the plans.
Gaunt said it will be important for KU's future buildings to grab future students' attention and provide services for students that they can't get from an online course, as well.
"We really need to create those magnetic places and enrich the quality of life of being here at the university," Gaunt said, "and what one gains from being here."
Copyright 2018 The Lawrence Journal-World. All rights reserved. This material may not be published, broadcast, rewritten or redistributed. We strive to uphold our values for every story published.