Every person who is close to Tim Lewis — buddies, family members, everybody he affiliates with, really — also knows him by his nickname, "Tiki."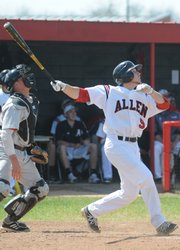 The way his father, Jim, tells the story, Tim couldn't have been older than 6 when he got his first new baseball bat and a second name.
Tim remembers the day he became Tiki all too well. The whole family had gathered at his grandparents' home for a party. Fond of his shiny new bat, Tim took it with him poolside in the backyard while his relatives stayed busy elsewhere. It seemed to him the unlit tiki torches surrounding the pool might serve as pretty good targets for his left-handed swing. So he began taking them down with his new favorite toy.
"I got into huge trouble with my grandpa (Tim Allen)," Lewis recalled.
Eventually, Lewis began taking his aggression out on baseballs. He became a second-team All-State designated hitter his junior year at Free State High. After graduating in 2011, he moved on to play two seasons at Allen County Community College as an outfielder.
Next, Lewis hopes to wreak havoc with his bat at the University of Maryland. Terrapins head coach John Szefc used to be an assistant at Kansas and Kansas State. His Sunflower State connections worked out in Lewis's favor.
Brett Lisher, another Free State baseball product, played under Szefc at KU, then joined the Allen County CC staff as an assistant. It was Lisher's recommendation of Lewis that led Szefc to offer him a roster spot at Maryland, which is a long way geographically and competitively from Allen County, in Iola.
"I had no idea where I was gonna end up," Lewis said.
He had some Division II offers and spoke with KU about returning to his hometown to play, but Lewis went with the Terps. This past spring was Szefc's first at Maryland, and Lewis couldn't pass up on the chance to be part of building a program.
"He just needed an outfielder with speed, and I'm left-handed," Lewis said, "so I can throw down a couple of drag bunts here and there."
Plus, Lewis will get a rare opportunity to play in the ACC next spring and the Big 10 during his senior year, once Maryland moves to its new conference.
"Playing in two different conferences will be a fun experience for me," he said, "and allow me to get looks (from various pro scouts)."
Lewis didn't have many college offers when his days at Free State ended. A broken right ankle during his sophomore football season set him back.
"I had to rehab real hard and basically re-learn how to run," he shared.
"That taught me how to fight through adversity. Everything happens for a reason."
When college offers didn't pile up, he didn't get down on himself, and now Lewis considers the next step in his baseball journey as an opportunity and a challenge.
"I'll definitely have to go in there and prove myself," he said of playing at Maryland, "and I'll have to work a lot harder than I already have. I'm not scared of that."
Those who know Tiki expect him to swing his way through any obstacles that get in his way.
Copyright 2018 The Lawrence Journal-World. All rights reserved. This material may not be published, broadcast, rewritten or redistributed. We strive to uphold our values for every story published.