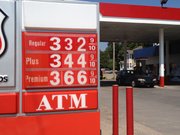 Gasoline prices are on a summer slide, giving Lawrence drivers a break as they set out on road trips and vacations this Fourth of July weekend.
At most Lawrence gas stations, prices are lower than they have been in months, and travelers will likely find prices down elsewhere too. The national average for a gallon of regular fell for three weeks straight going into July, and is now below $3.50 for the first time since February. Prices are even lower in Douglas County and across the state, and Lawrence is doing better than most, with the price of a gallon of regular dropping below $3.33 this week.
The reason: the price of crude oil has been fairly stable, and refineries are turning out more gasoline after finishing springtime maintenance, according to an Associated Press report. Experts say the drop may be interrupted temporarily after oil prices spiked Wednesday because of fears that turmoil in Egypt could disrupt the flow of crude oil in the Mideast. But most analysts don't expect a big increase at the pump while global oil supplies remain steady and U.S. refineries are producing a lot of gas.
A Midwest rollercoaster
Norman Pitts, of Lawrence, returned this week from a fishing trip in Missouri and found gas at $3.31 a gallon at a Dillons gas station at 3000 W. Sixth St. He said he noticed the drop from the the last time he filled up in town, three weeks ago, and paid $3.59. Other stations in Lawrence posted gas at $3.29, and it will make a big difference to Pitts if the prices stay low, he said.
"I spend a lot on gas," Pitts said. "We travel quite a bit, this summer especially."
Elsewhere in the U.S., the slide has been gradual. But it has been more of a roller-coaster ride in the Midwest, where prices were higher early last month because of refinery maintenance work and a fire at a Michigan refinery. Since then, prices have plunged as the refineries have ramped back up. The average price of a gallon in Kansas was $3.35 today, 34 cents below the $3.69 average a month ago, when prices spiked, according to KansasGasPrices.com, a website that tracks gasoline prices.
Whether the low prices will hold isn't certain, experts say. Oil prices shot up Wednesday above $101 per barrel, the highest since May 2012, as the crisis in Egypt deepened. Egypt is not a major oil producer but controls the Suez Canal, a major shipping lane for Middle Eastern crude.
While analysts are not expecting a resulting surge in gasoline prices, they could rise quickly if the Mideast unrest does disrupt oil supplies. Gas could also climb if a hurricane threatens the heart of the refining industry along the Gulf Coast.
Tom Kloza, chief oil analyst at GasBuddy.com, predicted the national average will hover between $3.30 and $3.60 for the rest of the summer. That would be somewhat lower than the last two summers, when gasoline prices spent part of the season above $3.70 per gallon.
A volatile market
But gas prices have seen better summers, too. So far, this year's early summer decline, while welcome, is smaller than the seasonal drops of the past two years, when gas prices also fell between Memorial Day and Independence Day. Across Kansas, gasoline is five cents more expensive, on average, than it was last year at this time.
Gas prices typically rise in early spring when refineries perform maintenance and switch from making winter gasoline blends to the more complex summer blends required for clean-air rules. When the nation's refineries aren't operating at full strength, supplies drop and prices rise.
"When refineries go down it can create immediate and severe havoc," said Kloza, the GasBuddy.com analyst. "It's a very shallow distribution system, quick to fill and quick to empty."
That's what happened in the Midwest earlier this year. A fire broke out at a Marathon refinery in Detroit in late April while maintenance was underway at an Exxon Mobil refinery in Joliet, Ill., and a BP refinery in Whiting, Ind. Prices in Kansas shot up, as they did elsewhere, reaching $3.71 for a gallon of regular in Douglas County. By July, gas was back down to $3.51 and still dropping.
Regional spikes and plunges are likely to happen more often in coming years, analysts say. The number of U.S. refineries has shrunk by a quarter since 1993 to 143, but the nation's refining capacity has grown 18 percent since then. The remaining refineries are getting bigger, so if one goes down, it's a bigger shock to the system.
Gasoline taxes account for the biggest difference in pump prices for U.S. drivers, according to the American Petroleum Institute, the industry's chief lobbying group. Combined local, state, and federal taxes on gas in Kansas total more than 43 cents per gallon, greater than some neighboring states, including Missouri, Oklahoma, and Colorado.
For his part, Roy Halverstadt, 71, of Lawrence, wasn't impressed today with the $3.32 price per gallon at a Kwik Shop gas station at 1420 Kasold Dr. Just back from a visit to family members out of state last week, Halverstadt said he paid less elsewhere: $3.19 for a gallon of gas in Dayton, Ohio and $3.23 near St.Louis, Mo.
He also was pessimistic about the gas prices staying low.
"You can kiss this goodbye," Halverstadt said. "It's going back up, no doubt about it."
Copyright 2018 The Lawrence Journal-World. All rights reserved. This material may not be published, broadcast, rewritten or redistributed. We strive to uphold our values for every story published.