Gardener training
K-State Research and Extension-Douglas County is accepting applications for Master Gardener volunteer training Aug. 20-Nov. 12. More information is available at www.douglascountymastergardeners.org, by calling 843-7058, or at 2110 Harper St. in Lawrence.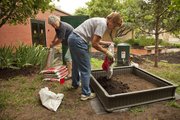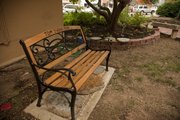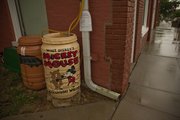 Tom Swan Park in Baldwin City is getting a new look and an educational angle with a little help from the Douglas County Extension Master Gardeners.
The park is a small pocket of green space, behind the fountain and the Baldwin City Chamber of Commerce office on the northeast corner of Eighth and High streets. Last fall, a group of Master Gardeners who were also Baldwin City residents formed a partnership with the Baldwin City and the local Lion's Club to improve the space.
Jane Akob, the Master Gardener who is leading the project, began volunteering in the park a few years ago with an interest in community service. As she went through training to become a Master Gardener in the fall of 2011, she started thinking about how the garden could become more than just a nice space in which to relax or eat lunch.
The Master Gardeners were already maintaining two demonstration gardens in Lawrence (the Fairgrounds Demonstration Gardens and Monarch Waystation No. 1). The goal of those gardens is to demonstrate sound plant choices and good gardening practices with labeled plantings and supplemental information. Akob conceived a plan to create a similar space in Tom Swan Park.
Thanks to Akob's perseverance, visitors to the park will now see flowers that are recommended through Kansas State University's Prairie Star and Prairie Bloom Flower programs such as lantana, sage, salvia, verbena and zinnias. The new Limelight and Oakleaf hydrangeas are on the soon-to-be-released recommended shrubs for Kansas list.
Additions of coneflower, beebalm, milkweed and fennel were made to improve the space for butterflies and their larvae, and the garden has been registered as a Monarch Waystation through KU's Monarch Watch. Akob and the team of Master Gardeners who are volunteering in the garden are working to install plant labels, although planting has taken first priority so far this year.
"We really appreciate the support from the city and the community" Akob said. She notes that Baldwin City has provided mulch and soil for the garden and will install a drip irrigation system and a patio.
The Baldwin City Lions Club has covered most of the other improvements, along with two 2 private monetary donations and various plant, seed and material donations made by other Master Gardeners.
Arrowhead Hardware in Baldwin also supplied summer-flowering bulbs that the Master Gardeners planted last week.
Rain barrels painted by students from the junior high school are a special feature of the garden. A nearby informational sheet explains how rain barrels work.
"This used to be a parking lot," Akob points out. "There's a lot more to go, but we are really pleased with what has been accomplished."
Tom Swan Park was dedicated in 1997. It is named for the late owner of the Baldwin Lumber Company, now the Lumberyard Arts Center, which is adjacent to the park. Swan was also active in the community as a city council member.

Copyright 2018 The Lawrence Journal-World. All rights reserved. This material may not be published, broadcast, rewritten or redistributed. We strive to uphold our values for every story published.