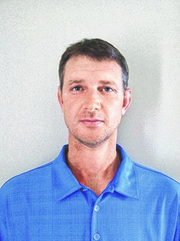 A baseball lifer, Free State High pitching coach Layne Meyer is about to expand his coaching résumé.
Pending school board approval, Meyer is set to take over as head coach of the Firebirds' girls golf program.
"I love the game of golf, and I hope I have a lot to offer as a coach," Meyer said. "It's a new challenge but one I'm enthusiastic about."
In his high school days at Parkway West (Ballwin, Mo.), Meyer pitched for the Class 4A state-title team in 1996. From there, a junior-college baseball stop in Florida turned into a scholarship at the University of South Alabama. The tall right-hander was drafted twice, by Tampa and Boston, but never made it to the big leagues.
His playing career ended in 2003 with the Gateway Grizzlies, an independent club located in Sauget, Ill. The next spring, he became an assistant baseball coach at Free State. That's when Meyer realized how much he enjoys working with student-athletes and helping them achieve their personal goals.
Though baseball had dominated his life, Meyer picked up golf along the way, and it became a serious hobby
"It's a way for me to release my competitive edge," Meyer said. "It's such a tough game. It's a challenge. I've picked up a lot about the game over time."
Grateful to take over the FSHS girls golf program, Meyer hopes to share the knowledge he has gained with the varsity golfers. Free State athletic director Mike Hill said the school's girls golf coaching position will be split — with Meyer handling the varsity and Jennifer Schmidt working with junior varsity. Schmidt teaches Spanish at FSHS, and Meyer has worked with special-education students at Free State as an integrated-studies teacher since 2005.
Last fall, Meyer spent time with the girls golfers, taking the team to different tournaments and helping out at practices.
"I'm excited about the core of girls that are returning," he said. "I just want to improve upon the success they had last year."
One thing the new coach would like to see is more players in the program.
"That's gonna be a challenge, and it's one that I want to take on," Meyer said.
"You want to get kids involved. There's so much to gain from organized sports and athletic teams in general, especially when you're talking about high school kids. So much in their development in life can come from sports and athletics."
Copyright 2018 The Lawrence Journal-World. All rights reserved. This material may not be published, broadcast, rewritten or redistributed. We strive to uphold our values for every story published.