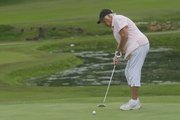 It seemed a bit of an embarrassing admission on her part, but Rusty Moore was asked a question and answered it honestly.
"No, I don't," Moore said when asked if she adheres to a stretching routine to aid her golf game. "I used to go to one of those exercise places every other day to work out, but I've just gotten lazy. I just don't feel like doing that."
Moore is so lazy, in fact, that at the age of 90 she plays golf just four days a week, playing two 18-hole rounds and two nine-hole rounds.
"And I love to dance," Moore said. "It's something that's fun to do until the day you die, like golf."
She doesn't plan on that day coming any year soon, as she let her friends from Alvamar Country Club know the day they threw her a 90th-birthday bash recently.
"They (taped) all these sayings about me onto my golf cart like, 'Rusty's like the Energizer bunny,' had all these balloons and a birthday cake," Moore said. "It was one of the best birthdays I ever had."
At the end of the day, Moore thanked her golf friends with a note that read, in part: "On my 100th birthday, I intend to have a hole in one."
It wouldn't be her first, just her most newsworthy. Moore twice carded aces at Lawrence's executive nine-hole golf course now known as CobbleStone under new owner Richard McGhee.
A member at Alvamar for the past 20 years, Moore has a golf swing that suggests she has played the game her whole life, yet the truth is she didn't take it up until 1985, when she retired from her job at Kansas University in what was known as the "photographic-services department."
Mother of three and stepmother to one, Moore said she lost her second husband, J.D. Moore, to Parkinson's disease 10 years ago. She enjoys the friendships she makes on the golf course, but more than the camaraderie motivates her to tee it up four days a week.
"I love the game," she said. "I just love the game. Mainly, I like being out in the open, out in the fresh air. And I love it because it's a challenge to yourself. You're the only one who's going to hit the good shot or the bad shot, so you're always trying to hit that good shot."
Undeterred by injuries in recent years — dislocated shoulder, rotator cuff, broken arm, knee surgery — Moore plays in two bowling leagues in the winter. She's in no hurry to slow down. After all, she made a promise to her friends, and she takes her promises seriously. Imagine the celebration for Moore if she does indeed score an ace on her 100th birthday. By then, she might even forgive herself for being so lazy as to not go to the gym to exercise every other day.
Copyright 2018 The Lawrence Journal-World. All rights reserved. This material may not be published, broadcast, rewritten or redistributed. We strive to uphold our values for every story published.