Lawrence crime, fire, courts coverage
Have a tip?
Contact Journal-World reporter Caitlin Doornbos: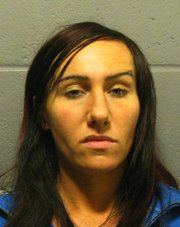 A 34-year-old Lawrence woman has been sentenced to 30 days in jail after being found guilty of engaging in prostitution with a juvenile who found her through online advertisements.
Amy C. Ballin was sentenced today in Douglas County District Court to 24 months of supervised probation and 30 days of "shock time" in jail after pleading no contest in May to three counts of prostitution and one count of aggravated battery, according to court records.
Ballin was arrested in December during a Lawrence police investigation alleging she advertised "sexually oriented services" online, according to police. In the investigation, police found a Lawrence juvenile, under the age of 16 at the time, who they say contacted the woman and engaged in sexual contact with her on more than one occasion at a hotel and a residence.
Douglas County prosecutors first charged Ballin with three counts each of prostitution, aggravated indecent liberties with a child and criminal sodomy, which could have carried more severe sentences, including prison time. Ballin pleaded no contest to the lesser charges as part of a plea agreement.
Copyright 2018 The Lawrence Journal-World. All rights reserved. This material may not be published, broadcast, rewritten or redistributed. We strive to uphold our values for every story published.