If your Fourth of July plans aren't set, there's still time to find a place for a cold beverage, the boom, sizzle and pop of fireworks and some good, old-fashioned American fun.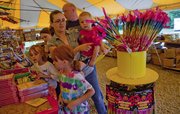 Communities from Lawrence to Perry to Ottawa are holding celebrations, and you're invited. Unless otherwise noted, the events are Thursday.
Lawrence
The Party in the Park will lead up to a fireworks display sponsored by the Lawrence Jaycees.
The Lawrence Originals, a group of local independent restaurateurs, plays host for the celebration, which starts at 4 p.m. Thursday at Watson Park, near Seventh and Tennessee streets. There will be food from Lawrence Originals restaurants, beer, live music and children's activities.
The fireworks start at about 9:45 p.m. Watson Park and Burcham Park, 200 Indiana St., are among the places to watch the show.
Abe & Jake's Landing, at the corner of Sixth and New Hampshire streets, will hold a fireworks viewing party beginning at 5:30 p.m. There will be food, a bounce house and kids' games. The entry fee is $5, and proceeds from the event will benefit Ballard Community Services, a local nonprofit that provides early education programs and assistance for needy families.
Perry Lake
Fireworks are back at Perry Lake, and the show is Saturday night.
An Independence Day celebration had been routine at Perry Lake since the mid-1990s until it fizzled out in 2009. Representatives from communities throughout Jefferson County began working in January to bring it back.
The comeback event, dubbed Jeff Fest, begins at 9 a.m. Saturday. Musical acts Lost & Found, Travis Martin and the KC All Stars will perform in succession from 2 p.m. to 9:30 p.m. at the east end of the dam. Face painting, a car show, karaoke, and more than 40 vendors and food stands will be located in the same area.
The main event, a fireworks display choreographed to music, starts at 10 p.m. The fireworks will be shot from the top of the dam.
"That's the unique part," said Lonnie Morris, president of the board that reorganized the celebration. "That is what makes this the most special event in Kansas."
There is no entry fee for Jeff Fest, but the board is asking for donations for parking, which will be on the south side of the lake off of Dam Road.
Baldwin City
To celebrate the Fourth, the city pool, 317 Fremont St., will waive its entry fee from 1 to 5 p.m. There will be a 16-foot water slide, obstacle course, dunk tank, music, games, prizes and free hot dogs. Kickball will follow at the Baldwin City Sports Complex, 100 Bullpup Dr., from 7 to 9 p.m. A fireworks display will begin at about 9:30 p.m. and can be viewed from the Sports Complex.
De Soto
Riverfest Park, 33440 W. 79th St., will be the site of live music, food, vendors and a fireworks display. The festivities begin at 7 p.m., and the fireworks show begins at 10 p.m.
McLouth
A fireworks display will begin when it's dark at the Stan Braksick Sports Complex on Bulldog Boulevard. Fireworks will be shot from east of the football field, and attendees may watch from the bleachers.
Ottawa
Forest Park, 400 N. Locust St., will host a fireworks display at dusk.
Fireworks regulations
For the nonprofessionals, make sure to know when and where fireworks are legal before preparing the launch pad.
A Lawrence ordinance bans the use and sale of fireworks in the city limits with the exception of several novelty items: party poppers, snappers, snakes and glow worms, sparklers, toy caps and toy smoke devices.
Fireworks may be used on private property in the unincorporated areas of Douglas County on July 2 and July 3 from 7 a.m. to 10 p.m. and on July 4 from 7 a.m. to midnight. Fireworks stands in the county start sales on July 2.
Sales in Jefferson and Franklin counties began June 27, and the use of fireworks in unincorporated areas is permitted in these counties.
Copyright 2018 The Lawrence Journal-World. All rights reserved. This material may not be published, broadcast, rewritten or redistributed. We strive to uphold our values for every story published.