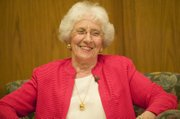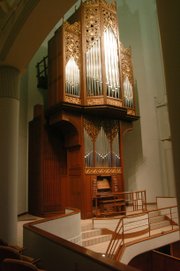 Honors
Some of the awards and honors given to Polly Bales during her life for her service to KU:
• KU Alumni Association's Fred Ellsworth Medallion for service to the university
• KU Distinguished Service Award
• Fort Hays State University Distinguished Service Award
• KU Gallery of Outstanding Kansans
Funeral service
A funeral service for Polly Bales will be at 2 p.m. Saturday at the United Methodist Church in Logan, located at 303 W. Church St. The family suggests memorial gifts to the KU Endowment for Bales Organ Recital Hall or to the Dane G. Hansen Memorial Museum in Logan.
The towering organ still echoed through the halls of Kansas University's Bales Organ Recital Hall on Monday morning, as it does nearly around the clock.
But one thing was different. Polly Bales, the KU alumna who first dreamed of the recital hall and helped make it happen, had died a few days earlier.
Bales, 92, died of natural causes Friday in Lawrence.
She and her husband, Dane, gave $4.1 million to KU during their lives, supporting cancer research in the School of Medicine and the Dole Institute of Politics, among other areas.
"Polly Bales was a distinguished Kansan and a very loyal Jayhawk," said Dale Seuferling, president of the KU Endowment Association. "She loved everything that was crimson and blue."
But their name will live on at KU chiefly through the organ recital hall they funded, which is attached to the Lied Center.
The building was created specifically to hold the 35-foot-tall organ housed inside, and it earns effusive praise from visitors from around the country, said James Higdon, the Dane and Polly Bales professor of organ at KU
"It's the finest facility of its kind at any university anywhere," Higdon said. His professorship was also created from a Bales donation.
Higdon, who's worked at KU since 1980, became close with Polly as she participated in the building's planning and frequently attended recitals there after it was finished.
The idea for an organ recital hall sprung to her mind when she studied organ at KU, where she enrolled in 1938.
The university's organ in those days was in Hoch Auditorium, encased in a metal cage next to the basketball court. (Basketball coach Phog Allen and the dean of fine arts would sometimes argue about reserving their respective practice times, Higdon said.)
"She said it was hard to keep time when you're listening to the basketballs bouncing in the background," Seuferling said. And she thought there should be somewhere better to play.
About 50 years later, she and her husband realized that dream. The Bales Organ Recital Hall opened in 1996, and gifts from the Baleses and the Dane G. Hansen Foundation (named for Dane Bales' uncle) paid for the entire cost. Dane and Polly Bales also gave $2 million to keep it maintained.
"Polly understood that, of course, everything is important, but without the arts life isn't worth living," Higdon said.
The pond in front of the nearby Dole Institute, called "Polly's Pond," is also named for Bales.
Polly and Dane Bales met at KU and married in 1941. They lived most of their lives in his hometown of Logan, which has a population of about 600. Dane, a 1941 KU graduate, worked for his uncle's oil exploration business. He died in 2001. Their son, Dane Bales Jr., died in 1998.
Polly was a member of a host of civic, political and KU-related organizations, including the KU Endowment Board of Trustees, the KU Alumni Association, the Dane G. Hansen Memorial Museum in Logan, several Republican groups and Bob Dole's presidential campaign. She and her husband frequently attended KU music performances, football and basketball games and other events.
The Baleses also enjoyed traveling, taking 24 international trips from 1971 to 2000 with the Alumni Association's Flying Jayhawks group.
And everywhere she went, Seuferling said, she exuded pride for KU and the state of Kansas.
"She got up every day of her life, and her first thought was, 'What can I do to help somebody today?' " Higdon said. "And she did."
Copyright 2018 The Lawrence Journal-World. All rights reserved. This material may not be published, broadcast, rewritten or redistributed. We strive to uphold our values for every story published.