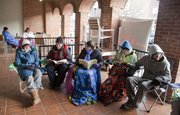 Despite spending the night camped out in freezing temperatures in front of Freebirds Burritos for its Lawrence grand opening, Kansas University physical therapy student Stephanie Funk was all smiles.
Stephanie and her husband, KU medical student Eric, were among more than 20 burrito lovers who braved the cold night for a special offer from the new restaurant at 741 Massachusetts St.: a free burrito every week for a year for the first 25 customers. A 26th customer was also awarded the deal as well, after a miscount, said a store manager.
"It's worth it for free food," Stephanie said.
But Eric, huddled in a blanket, was a little worn down by the cold weather, shivering along with several others wrapped in sleeping bags and parkas.
"I'll feel better when I can feel my toes," he said.
So what is it about a Freebird burrito that has the couple — who also won burritos for a year by waiting in line at the chain's Westport location opening back in October — so excited?
It's the options, Stephanie said, rattling off the potential ingredients she planned to get in her first burrito when the doors opened at 11 a.m.
For Eric, it's about avoiding home cleanup duties a couple times a week.
"No dishes to do," he said.
Copyright 2018 The Lawrence Journal-World. All rights reserved. This material may not be published, broadcast, rewritten or redistributed. We strive to uphold our values for every story published.