Photo Gallery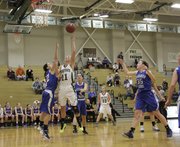 Firebird girls win Winter Classic
The Lawrence Free State Firebirds defeated Washburn Rural to win the championship game of the Firebird Winter Classic
No one would have handed Free State High's girls basketball team an award for offensive proficiency following its Saturday afternoon game against Washburn Rural, but defense earned the Firebirds a 43-31 victory and their second straight Firebird Winter Classic championship trophy.
FSHS held the Blues (8-5) scoreless the entire second quarter of the tournament title game at FSHS. Rural, the No. 9-ranked team in Class 6A, didn't make a field goal or free throw during a span of more than 13 minutes, stretching from late in the first quarter to midway through the third. So even though the Firebirds (9-3) only scored six points in both the second and third quarters, they entered the fourth with a 13-point advantage.
While the two programs don't play in the same league, FSHS coach Bryan Duncan said they are familiar enough with each other to make for a rugged game. The teams combined to hit just 26 percent of their shots. While Rural went 9-for-40 (23 percent), Free State wasn't much better, going 11-for-36 (31 percent).
Duncan pointed out that neither team ran bad offensive sets. Still, Free State only extended its 22-10 halftime lead to 28-15 entering the fourth quarter after the Firebirds went 2-for-11 in the third (Scout Wiebe scored on an offensive rebound, and A'Liyah Rogers made a layup in transition), and the Blues were 2-for-9 (a drive by Charly Michaelis broke Rural's scoreless drought, and Erika Lane scored in the paint).
"That third quarter, it felt like, man, nobody can score," Duncan said after his team won its home tournament for the third time in four years. "But I think both teams really deserve some credit for the way the defenses played."
Rogers gave FSHS its only field goal of the fourth quarter and a 30-18 lead on a drive to the paint with 5:36 remaining. From that point, the frustrated Blues forced the Firebirds to win the game at the foul line.
In the final four-plus minutes, Free State scored its final 13 points at the charity stripe. Abbey Casady hit six of nine, Chelsea Casady made four of seven and Scout Wiebe converted three of her four tries.
The free throws couldn't have come at a better time.
Senior guard Kennedy Kirkpatrick, who returned to the lineup Thursday after missing more than two weeks because of a partially torn left MCL, had to leave the game early in the fourth after bumping knees with another player. She finished with eight points and four assists, and Duncan said her left knee felt bad enough there was no reason to keep her on the floor.
"We've got some other good players," the coach said, "and all of our players need to step up at the end of the game and be able to make plays."
In a physical game, Wiebe said they had to make up for their lack of field goals.
"That was most of our points," she said of the team's fourth-quarter free throws after leading FSHS with 11 points and eight rebounds. "It would've been a way closer game and a harder game if we hadn't made them. The free throws were really important."
The Firebirds' 20 free-throw attempts in the final 4:02 began when Rural coach Kevin Bordewick was whistled for back-to-back technical fouls shortly after freshman Blues guard Lauren Biggs caught an inadvertent elbow to the nose from FSHS junior guard Millie Shade as she began a drive from the perimeter.
Following Bordewick's ejection, Chelsea made two of her four free throws before Rural put together a 10-3 run in less than three minutes. But Michaelis's three-pointer with 1:35 left proved to be the Blues' only points in the next 1:20, as Free State hit eight of its 10 free throws.
Chelsea, who finished with 10 points, said the Firebirds needed to stymie Rural's perimeter players. And they did, limiting WRHS to 1-for-16 shooting from behind the arc.
"Normally, they're a really good three-point team," Chelsea said. "I think we did a really good job of stopping them and just making sure they didn't play their game."
The defense Rogers and Abbey showed against Lane, who will play next year at the University of Tulsa, proved huge. Lane went 3-for-11 and scored a team-best eight points. She fouled out with 2:56 remaining on a drive, when Wiebe drew a charge.
"We all worked as a team," Chelsea said, "and it just really clicked that way."
Copyright 2018 The Lawrence Journal-World. All rights reserved. This material may not be published, broadcast, rewritten or redistributed. We strive to uphold our values for every story published.