Annual meeting
The Lawrence Chamber of Commerce annual meeting social will begin at 5:30 p.m. Friday at Liberty Hall. The ceremony will start at 6:45 p.m., and there will be an Afterglow reception until 9:30 p.m. at the Eldridge Hotel. Tickets are $75.
The Lawrence Chamber of Commerce will honor three community members for their service to Lawrence on Friday during its annual meeting. Sharon Spratt, CEO of community service organization Cottonwood Inc., will receive the Athena Award, and Web and Joan Golden will receive the Chamber's Citizen of the Years award.
"It's an honor," Joan Golden said. "There are a lot of people in Lawrence who've done a lot."
Athena Award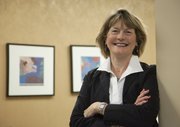 Spratt was nominated by community members and picked by previous award winners to receive the Athena Award, which "honors individuals who strive toward the highest levels of professional accomplishment" and make important contributions to the community, according to the Chamber of Commerce website.
Spratt grew up in western Kansas, attended Kansas State University and graduated with a degree in education with a minor in special education. After receiving her degree, she accepted a job offer in Florida, but instead of teaching children, she found herself working with adults. Although it wasn't her original career path, Spratt enjoyed it and pursued similar opportunities.
She moved to Hays in 1980 and to Lawrence in 1988. She joined Cottonwood in 1989 and became the CEO in 1994. The organization works to help community members with intellectual disabilities by helping them to be contributing citizens in society.
"When good things happen because of the work you do, whether it's helping people to be more independent or helping to make the community a better place ... you realize maybe it does help to make a difference in others' lives," Spratt said.
Along with her responsibilities at Cottonwood, Spratt has contributed to countless organizations in Kansas and across the nation.
Spratt said she enjoys being an active member of the community because it provides her with an opportunity to promote Cottonwood's work. She also serves as an executive committee and board member for InterHab; as a board member for the American Congress for Community Support and Employment Services; as Kansas State Rep. Paul Davis' designee for the Kansas Commission on Disability Concerns; and as a board member for the Douglas County Bank. She has previously served on numerous other boards and organizations in Lawrence.
"I like to learn, and those (organizations) really help me to be a lifelong learner and expand my leadership abilities," Spratt said.
Citizen of the Years award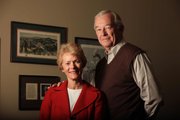 Web Golden is a partner at Stevens & Brand law firm, and Joan Golden is senior vice president at U.S. Bank. Both grew up in Iola, but their ties to Lawrence run deep. The two knew each other distantly in high school but didn't became a couple until attending Kansas University, where they both received their undergraduate degrees. They were married in 1967, and after living in Charlottesville, Va., and Washington, D.C., moved back to Lawrence in 1972, when Web Golden received an offer to teach at the KU School of Law.
"It was something I never had expected to have the opportunity to do," he said. He taught classes full time until 1977 when he joined Stevens & Brand.
The Goldens have contributed to Lawrence through their involvement and commitment to the community. Joan Golden is on the Lawrence Public Library Board of Trustees and the Lawrence Arts Center Board of Directors, and Web Golden is a board member of Cottonwood Inc. and the Douglas County Community Foundation. The two have previously served as board members for the Lawrence Chamber of Commerce. Joan has served as a chairwoman and member of the Lawrence Memorial Hospital Board of Trustees, United Way Douglas County, Kansas Memorial Unions Board of Directors and the Lied Center of Kansas Board of Directors.
Web Golden said his biggest contribution was moving to town almost 41 years ago, because of the work his wife does for the city.
"My greatest accomplishment for Lawrence was bringing Joan Golden here," Web said.
Joan Golden was asked to join the Lawrence Memorial Hospital board in the late 1970s and since then has been involved in numerous Lawrence organizations, including acting as the chairwoman for the $1 million capital campaign for the renovation of the Lawrence Public Library.
"I feel like the organizations I've been involved in have a broad-based appeal," she said. "Through my leadership, hopefully I can make a difference through these organizations."
Adam Handshy, Lawrence Chamber of Commerce director of events, said the Goldens' honor is the highest the chamber can bestow upon a community member.
"The Citizen of the Years award is given as a lifetime achievement award," Handshy said. Joan Golden has previously won the Athena Award as well.
Copyright 2018 The Lawrence Journal-World. All rights reserved. This material may not be published, broadcast, rewritten or redistributed. We strive to uphold our values for every story published.