Photo Gallery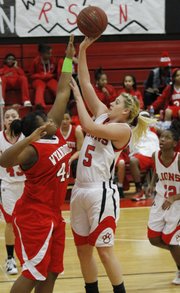 LHS girls vs Wyandotte basketball
It has been a feast-or-famine kind of season for Lawrence High's girls basketball team, and Friday night, for the first time in four games, the Lions again found themselves gobbling up their opponent.
Behind 34 steals and a 44-point first half, LHS picked up its second victory of the season, 64-25, over Kansas City (Kan.) Wyandotte at Lawrence High.
"This was a great team victory," said LHS coach Nick Wood, who watched eight of the nine players who suited, score on Friday. "It's very important that our girls feel good about themselves as we try to get on a little roll here, but we can't lose sight of the fact that we've been on the other side of that score the last three times out."
The Lions (2-6) made sure falling behind was not an option early, as they raced to a 24-0 first-quarter lead and picked up the majority of their points off a stifling full-court press.
During that stretch, LHS senior forward Bri Anderson swiped five steals and gave an early indication of what turned out to be a career night for her.
Anderson finished one steal shy of recording the Lions' first triple-double since Jasymn Turner in 2010, finishing with 13 points, 11 rebounds and nine steals in what she referred to as the best game of her life.
"I just had the passion to play hard from the start," Anderson said. "I think we all did, and it worked out great. This was a big game for our confidence."
Anderson was unaware of how close she had come to a triple-double until being told after the game. Although her knees nearly buckled when she found out, she said her late-game intensity was merely a product of her mind-set.
"Just going hard," she said.
Anderson was far from the only Lion to light up the stat sheet. Junior Kionna Coleman poured in a game-high 17 points and added six rebounds and five steals, junior Makayla Bell tallied 11 points and five rebounds, and seniors Emma Kelly (six points, six rebounds, five steals) and Anna Wright (seven points, six steals) also helped LHS run away from Wyandotte.
LHS forced 52 turnovers — 17 in the first quarter alone — and found a way to keep its intensity up even while playing with a huge lead throughout the final three quarters.
"We try to make it a point defensively to make other teams uncomfortable," Wood said. "Because that's what's in our best interest offensively. In a game like this, it's tough because you still want them to compete and play hard, but you also want to be respectful of the situation."
The Wyandotte players and coaches seemed to have no issue with how LHS played throughout Friday's blowout. After hitting the Bulldogs (2-6) with that initial spurt, the Lions began to work on a variety of halfcourt defenses that Wood said might help his team down the road.
"That was the great thing about tonight," he said. "We got to work on some things that we don't normally do, and I thought the girls did a great job handling that."
Of course, it helped that the Lions were rewarded for their effort on defense with plenty of opportunities on offense. The Lions hoisted a whopping 90 field-goal attempts Friday and scored nearly half of their points in transition.
One other noteworthy performance came from sophomore Imani Simmons, a transfer from Shawnee Heights who played her first game with the Lions and scored seven points while appearing to fit in with ease.
"It was great," Simmons said. "The team welcomed me in very well, and this really boosted my confidence a lot. I feel pumped. I'm ready to go play the next game."
Copyright 2018 The Lawrence Journal-World. All rights reserved. This material may not be published, broadcast, rewritten or redistributed. We strive to uphold our values for every story published.