The exasperation on the faces of Free State High's girls basketball players Friday night against Olathe Northwest told the story.
Photo Gallery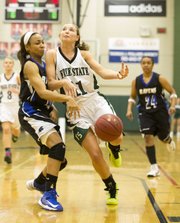 Free State girls vs. Olathe Northwest
Though the Firebirds, ranked No. 4 in Class 6A, clawed and fought against the No. 8-ranked Ravens, they couldn't find a way to consistently stop ONW in a 64-40 home loss.
Free State starters Abbey Casady, A'Liyah Rogers, Kennedy Kirkpatrick, Scout Wiebe and Chelsea Casady all had their moments of frustration as the Olathe Northwest lead expanded throughout the game, despite the undersized Firebirds' best efforts.
No one perturbed FSHS players more than ONW senior forward Kelsey Brooks. Her speed in the passing lanes led to Free State turnovers all night and the 5-foot-9 thief finished with seven steals and a game-high 20 points.
FSHS coach Bryan Duncan said Brooks is one of the Sunflower League's top players. Of course, everyone in the ONW rotation played a part in Free State's demise.
"We'd like to internalize and just say that we made bad decisions," Duncan said. "The reality is they're a very good team, and their defense put us in some situations that we hadn't seen this year and can't simulate in practice. There's no doubt that they sped us up and put us in some tough spots."
While 16 Free State turnovers helped the Ravens (5-3) make 25 of their 59 shots (42 percent), the Firebirds converted just 14 field goals on 52 tries (27 percent).
Senior ONW post player Michaela Crall scored 12 points, Shaleia Jamison added eight and Vashti Neal scored eight more for the Ravens.
Wiebe, who finished with 15 points, was the only Firebird to reach double figures.
Kirkpatrick (seven points) might have joined her, but she injured her left knee with just less than seven minutes remaining in the fourth quarter and had to be assisted off the court. Duncan didn't know the extent of Kirkpatrick's injury Friday night, but she will have an MRI on Monday.
Seeing Kirkpatrick hit the floor in agony while defending Brooks, Duncan said, had a real negative impact on the Firebirds, though her presence wouldn't have made a difference in the outcome.
"You never want to see players get hurt," Duncan said, "and certainly not when it's your team leader."
At 7 p.m. Tuesday, Free State (5-3) plays host to Kansas City, Kan., Washington.
Copyright 2018 The Lawrence Journal-World. All rights reserved. This material may not be published, broadcast, rewritten or redistributed. We strive to uphold our values for every story published.