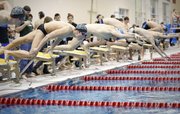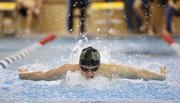 Thursday wasn't the last time this season Free State High's boys swimmers and divers will compete at their home pool, the Lawrence Indoor Aquatic Center. But the Free State Invite had a hint of finality to it, senior Connor Munk said, after he and fellow soon-to-be graduates Nickolas Becker, Dan Krieger, Wyatt Ohse, Josh Saathoff, Ben Sloan and Connor Thellman were introduced to the home crowd for Senior Night.
Munk won the 100 backstroke and contributed to two relay school records, and the Firebirds (617 team points) won eight of the 12 events to take first place and finish 57 points ahead of runner-up Topeka Washburn Rural.
"It definitely ended on a good note," Munk said of the team's Senior Night success. "Washburn Rural, they're a good team, and I'm glad we beat them."
Some members of the Firebirds will compete at home again at the Last Chance Meet, following the Sunflower League Invitational, also to be held at LIAC. FSHS set the tone for future success in its on-campus pool with school records in the 200 medley relay and 200 free relay. Free State opened the invite with Munk, Josh Primm-Torrell, Sloan and Hunter Robinson winning the medley in 1:40:06. Later, Sloan, Munk, Jack Ziegler and Canaan Campbell became FSHS record-holders by winning the free (1:30.07).
Firebirds coach Annette McDonald said the relay success is an example of the team's depth.
"They have lots of talents in lots of different areas," McDonald said, "so it's gonna be hard to decide where to swim some of the guys so they get the best points for the team."
The relay records were just two of many highlights for Free State. Sloan won the 200 IM and 100 fly, Campbell won the 500 free and Primm-Torrell won the 100 breast.
Plus, FSHS divers finished 1-2, with Krieger winning and junior Trevor Hillis taking second.
"These guys have been pretty focused the last couple of weeks," McDonald said.
Krieger, who already had qualified for state, finished with 238.4 points and had the home crowd behind him.
"He was on," McDonald said. "His dives looked beautiful. He just nailed them."
Free State also earned second-place finishes in the 200 free (Munk), 200 IM (Primm-Torrell), 50 free (Campbell) and 400 free relay (Ziegler, Nolan Stoppel, Primm-Torrell and Campbell).
The Firebirds finished third in the 200 free (Cooper Schmiedeler), 200 free relay (Robinson, Josh Saathoff, Kyle Yoder and Becker) and 100 breast (Robinson).
Munk said the already-talented team received a boost with the post-break additions of Campbell and Primm-Torrell, who had been competing at the club level before joining FSHS for competition.
"Everyone's improved," Munk said. "Everyone's doing awesome."
Copyright 2018 The Lawrence Journal-World. All rights reserved. This material may not be published, broadcast, rewritten or redistributed. We strive to uphold our values for every story published.