Overland Park — For a moment, with his team down 11 and 2:45 left, Free State coach Chuck Law was happy to see Shawnee Mission South jack up a quick three from the corner.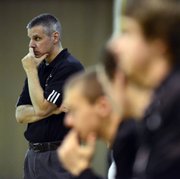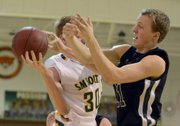 That was until he realized sophomore guard Dainan Swoope was taking the shot.
"If it's anybody else maybe in America right now, it's a shot that you'd be willing to give up," Law said. "He just happens to be on an incredible roll right now."
That continued against Free State on Tuesday night, as the 6-foot Swoope swished the three-pointer — his sixth and final one of the night — to help put the Firebirds away in a 65-48 South victory.
Swoope, who had 35 points on 9-for-13 three-point shooting in his previous game Friday against Shawnee Mission North, added 20 points Tuesday with 6-for-7 three-point accuracy.
"He's just so silky right now," Law said.
South — KBCA's top-ranked team in Class 5A — was never seriously challenged following a 16-2 run that made it 27-11 midway through the second quarter.
The final nine points of the spurt all came from Swoope, who put in three consecutive threes with the South students chanting, "You can't stop him" after the final one.
"It's not unguardable. It's just little stuff that we did that we can easily change," FSHS senior forward Cody Scott said. "It's just little miscommunications, little breakdowns."
Though the Firebirds (2-5) never trimmed the lead under double digits after that, they didn't let the game get out of hand, either.
A Khadre Lane layup with 3:30 left capped an 8-2 run, as Free State closed the deficit to 52-41 after trailing by 18 to start the fourth quarter.
The 17-point victory was actually the closest game that South (7-0) has had this year. The Raiders' smallest margin of victory before Tuesday was a 58-39 win over Mill Valley.
"They're arguably the best team that there is in the state of Kansas," Law said of South. "They've got all the pieces. You've got to play a very complete game to compete with them. I thought we played really well for probably 20 of the 32 minutes. Then there's the two-minute stretch here, the two-minute stretch there, maybe the three-minute stretch there where they just take advantage of that and exploit you."
The Raiders made 51 percent of their field goals (23 of 45), which was even more impressive considering they attempted 19 three-pointers.
South also played just seven guys.
"They've got so much stuff they run. They've got so many sets," Law said. "You can tell they are really in-tune with one another. They've played a lot together."
Scott tied for the team lead in scoring, posting 12 points on 4-for-5 shooting with 2-for-2 accuracy from three-point range.
Sophomore Weston Hack added 12 points on 4-for-6 shooting, while junior Cole Moreano also had double figures with 10.
Free State will play host to Olathe Northwest on Friday.
Copyright 2018 The Lawrence Journal-World. All rights reserved. This material may not be published, broadcast, rewritten or redistributed. We strive to uphold our values for every story published.