Olathe — The high-ball screens — one of the Free State girls basketball team's staples — weren't working, but Kennedy Kirkpatrick wasn't interested in letting that ruin her night.
Photo Gallery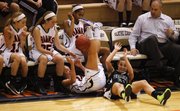 Free State girls basketball v. Olathe East
Images from Friday night's game against Olathe East.
After posting just three points in the first half, the Firebirds senior guard broke out after intermission, scoring 13 second-half points to help lift FSHS to a 47-44 victory over Olathe East.
"We figured out what worked on offense and what didn't work," Kirkpatrick said. "Instead of doing the same thing over and over, we adjusted and we got creative."
Instead of scoring off the dribble, Kirkpatrick cut more in the second half to find openings. She also posted up a few times and scored off steals as well.
"Kennedy in the second half had that fire in her eye on both ends of the floor," FSHS coach Bryan Duncan said. "She took over when she needed to."
Free State actually trailed, 37-36, midway through the fourth quarter before Kirkpatrick kickstarted a run.
The 5-10 guard put in a layup then a three-pointer, starting a 7-2 spurt that ended with a Scout Wiebe steal and two.
A three-pointer by Olathe East's Regan Stone cut the lead to 47-44 with 10 seconds left, but with only three team fouls, the Hawks weren't able to put the Firebirds at the free-throw line.
Following two East fouls, Kirkpatrick dribbled in the backcourt to successfully run out the game's final three seconds.
"We told the kids we're going to have some games like that throughout the season where you don't play as well as you want to," Duncan said. "You've just got to make sure you win the game."
Free State's 28 second-half points came from only three players: Kirkpatrick (13), Wiebe (11) and Chelsea Casady ( four).
The Firebirds (5-1) started both halves with three different starters following excused and unexcused absences at practice.
"It's probably over-talked about, and every coach mentions it, but we didn't play with much energy (in the first half)," Duncan said. "I think you could see our bounce was not there. Our facial expressions ... we were just there. We didn't seem to have a whole lot of desire to be there."
Kirkpatrick's 16 points came on 6-for-9 shooting. Wiebe added 13 points on 6-for-12 accuracy.
Free State's pressure defense also played a part in the win, as the Firebirds forced 18 giveaways while turning it over just nine times.
Free State will play Monday at Shawnee Mission South.
Copyright 2018 The Lawrence Journal-World. All rights reserved. This material may not be published, broadcast, rewritten or redistributed. We strive to uphold our values for every story published.