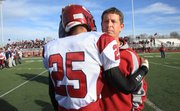 After 11 seasons at Eudora High and two straight Class 4A state championship game appearances, football coach Gregg Webb is moving on to tackle a new challenge.
Webb has agreed to take over the football program at Truman High, a Class 5 program in Independence, Mo.
The Independence school district first contacted Webb about becoming Truman's head coach in the days following Eudora's title-game loss to Holton in late November. Webb, in a Wednesday phone interview with the Journal-World, said officials at Truman walked him through the process and addressed his questions and concerns.
"They convinced me the potential is there, the possibilities are there, to win in one of the best conferences in Missouri," said Webb, who has compiled a 248-54 record in his 26 combined seasons at Claflin and Eudora.
Truman went 1-9 in 2012 and plays in the Red division of the Suburban Conference. Webb, 50, said he had to convince his wife, Kelli, and the rest of his family to make the move and find out if he can reproduce the success he's had not only at Eudora (96-30), but also at Claflin (152-24), where he won five state championships and coached in nine title games in 15 seasons before taking over at EHS.
"They've got good people there, and they think it can be done," Webb said of Truman. "We'll see."
The first coach to lead Eudora football to a title-game berth, Webb said he was grateful for his time leading the program, and a lot of sadness has been involved with leaving that behind, because he had grown very comfortable at the school.
So what exactly led him to the change?
"Maybe curiosity, maybe ego, I don't know," Webb said with a chuckle. "There wasn't any one thing, and Eudora's facilities are nice and the people around me and my family that we got to know are outstanding and great, and the kids are, of course, awesome."
His "new adventure" will involve a lot of commuting for now, because Webb will remain at EHS, teaching American history and government and coaching throws for Eudora track, through the end of the spring semester. But he'll travel to Truman as often as he can to establish himself at his new job. Webb anticipates the most difficult part of the transition will be putting together his staff, getting to know the players in the program and dealing with logistics, fundraising and things of that nature — all while working at EHS.
"I'm not gonna shortchange the kids that I have this semester," he said, "just because I'm leaving."
Copyright 2018 The Lawrence Journal-World. All rights reserved. This material may not be published, broadcast, rewritten or redistributed. We strive to uphold our values for every story published.