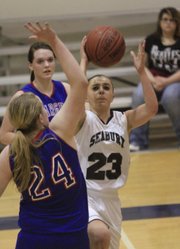 Alex Gaumer made one of two free throws with 3.5 seconds left to give Bishop Seabury a 50-49, first-round Class 2A girls basketball sub-state victory over Wabaunsee on Wednesday at Seabury.
Gaumer made 10 of 12 free throws in the fourth quarter to hold off Wabaunsee, which had stormed back from a 13-point deficit. Wabaunsee made 16 of 21 free throws in the fourth quarter, which turned into a foul-fest.
"We fouled a lot in the fourth quarter," said Seabury coach Keith Smith. "We got in foul trouble, and they were shooting free throws with the clock stopped. It was just foul after foul. That last two minutes took about 25 minutes with the clock stopped."
Courtney Hoag led Seabury with 21 points. Seabury made 14 of 22 free throws in the fourth quarter to stem the tide.
"We moved the ball real well (for three quarters), and talked on defense," said Smith. "They played exceptional the first three quarters. We had about a 10-point lead with four minutes left, and I said, 'Let's get them out of their zone and take care of the ball.'"
Seabury (9-9) will travel to Alma Wabaunsee on Friday to play Northern Heights in the sub-state semifinal.
Wabaunsee 3 11 7 28 — 49
Seabury 7 10 17 16 — 50
Wabaunsee: Diepenbrock 7, Barber 5, Michaelis 1, C. Flach 20, Terrapin 5, J. Flach 9, A. Flach 2.
Seabury: Mariah Smith 8, Alexa Gaumer 16, Courtney Hoag 21, Emma Stilgenbauer 3, Taylor Sweeney 2.
Copyright 2018 The Lawrence Journal-World. All rights reserved. This material may not be published, broadcast, rewritten or redistributed. We strive to uphold our values for every story published.