Photo Gallery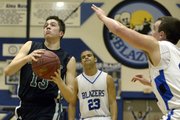 Free State boys vs. Gardner-Edgerton
Gardner — The play was called "Jayhawk," and Free State High's Cody Scott knew that teammate Cole Moreano was about to get the ball on the perimeter.
With six minutes left, Gardner-Edgerton had just taken its first lead since midway through the first quarter — and after taking a quick glance at Moreano, Scott knew that the junior was ticked off.
"As soon as he gets the ball, I know it's going in," Scott said. "It's just automatic when he gets that look in his eye."
Sure enough, Moreano curled around a screen, swished the three-pointer, then screamed, "Let's go, baby!" toward the Free State bench.
It was the offensive — and emotional — boost that the seventh-seeded Firebirds needed, as they never trailed again in a 53-47 boys basketball upset over second-seeded Gardner-Edgerton on Wednesday night at Gardner-Edgerton.
"I was just excited that we got out of here with a win," Moreano said, "because that's a really good team — a really good team."
After giving Free State the lead — and ending a 9-0 Gardner-Edgerton run — Moreano gave his team some cushion on the next possession.
From a step beyond the arc, the 6-foot-4 guard knocked in a guarded three to put the Firebirds up, 43-38, with 5:07 left, once again roaring back toward his own bench.
"He gets so excited. He gets pumped up," Scott said. "That's just his adrenaline and his love for the game coming out."
The Trailblazers eventually tied it at 47 with 2:23 left, but Blake Winslow and Moreano each hit a pair of crucial free throws, while Free State's defense posted a shutout the rest of the way.
"Great team effort on the defensive end," Free State coach Chuck Law said, "and just enough on the offensive end to squeak it out."
Free State built a 26-21 halftime lead by taking advantage of a sagging G-E defense that put little pressure on ball-handlers.
The Firebirds often passed it around the perimeter before finding a cutter to the basket for an open layup. Five Free State players had assists in the first half.
After building a 35-21 third-quarter lead, though, the Firebirds lost that advantage in a hurry. After four first-half turnovers, the Firebirds had nine giveaways in the third quarter alone, and GEHS used a 17-2 run to take a 38-37 lead with just over six minutes to play.
"They started making pushes, we panicked," Scott said, "and then we overcame it."
A big reason for that was Moreano, who went 5-for-5 from the floor and 2-for-2 from three in the second half.
"I thought everything was going to go in," Moreano said. "I should have made two more free throws, but everything else looked good."
Moreano led Free State with a game-high 19 points on 7-for-9 shooting with nine rebounds and three blocks. Scott added 12 points on 5-for-10 shooting with six rebounds.
Law left most pleased with his defense, as Free State held outside threat Kyle Huppe to 12 points on 5-for-12 shooting.
The Trailblazers (12-9) made just three of 15 three-pointers.
Free State (10-11) will play at third-seeded Olathe East at 7 p.m. Friday in the sub-state finals. The winner of that game advances to the eight-team 6A state tournament.
"There's really big highs and really big lows with our team," Moreano said. "Hopefully we can master that by Friday."
FREE STATE (53)
Cole Moreano 7-9 3-5 19, Keith Loneker 3-5 1-5 7, Reshawn Caro 1-3 0-0 3, Khadre Lane 1-7 1-2 3, Logan Bannister 0-0 0-0 0, Blake Winslow 3-7 3-4 9, Cody Scott 5-10 2-3 12, Weston Hack 0-0 0-0 0, Kyle McFarland 0-1 0-0 0. Totals 20-42 10-19 53.
GARDNER-EDGERTON (47)
Ben Carpenter 1-5 2-3 5, Dilon Dodson 0-4 0-1 0, Kyle Huppe 5-11 0-0 12, Matt Plank 0-3 2-2 2, Traevohn Wrench 7-17 0-3 14, Brett Wright 2-5 2-2 6, Kyle Hultgren 1-1 0-0 2, Josh Lang 0-0 6-6 6, Trevor Clarke 0-1 0-0 0. Totals 16-49 12-17 47.
Free State 12 14 11 16 — 53
G-E 6 15 12 14 — 47
Three-point goals: FS 3-9 (Moreano 2-4, Caro 1-1, Lane 0-2, Scott 0-2); GE 3-15 (Huppe 2-6, Carpenter 1-3, Dodson 0-1, Wright 0-1, Wrench 0-1, Plank 0-3). Fouled out: Wright. Turnovers: FS 20, GE 18.
Copyright 2018 The Lawrence Journal-World. All rights reserved. This material may not be published, broadcast, rewritten or redistributed. We strive to uphold our values for every story published.