Free State coach Bryan Duncan didn't go through a fiery speech at halftime following a low-energy first half from his team Friday night.
Photo Gallery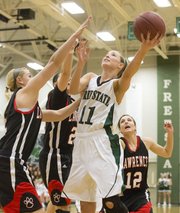 Free State girls vs. Lawrence High
After looking at his players, he said he could tell they would be fine in the second half.
"I knew it was just an intensity thing," Duncan said. "They didn't have to be told much, and that's the sign of a veteran team."
Free State followed through by amping up the second-half defense, running away from Lawrence High in a 61-37 victory on Senior Night at Free State's gym.
The Firebirds ended the third quarter on a 22-1 run, turning a 23-20 lead into a 45-21 advantage.
"It was really self-motivation," FSHS senior guard Kennedy Kirkpatrick said. "We knew what we needed to do: just come out and play hard."
The final score didn't reflect a competitive first half.
LHS used efficient shooting and strong interior defense to take an 11-6 lead after the first quarter.
The Lions made five of nine shots while forcing the Firebirds into long jumpers, as Free State was just 2-for-12 from the floor in the first eight minutes.
"We played exactly how we'd talked about how we wanted to play," LHS coach Nick Wood said. "Our defensive pressure was really good. Offensively, we were making it a point to get that ball inside, and we were doing a good job with our identity, establishing the way we want to play."
The Lions' scoring wouldn't hold up, though, as they were held scoreless for the first 7:16 of the second quarter.
In that time, Free State posted a 15-0 run to take a 21-11 lead before Anna Wright's 17-foot jumper broke the LHS drought with 44 seconds left in the half.
The Lions, who trailed 21-15 at halftime, also had a 9 1/2-minute stretch in the second half without a field goal.
"We started getting careless with the ball, turning it over," Wood said. "All of a sudden, it got away from us."
Free State pushed its lead as high as 32 in the fourth quarter, and the Firebirds' senior bench players took advantage of the additional playing time in their final regular-season home game.
Summer and Ariana Frantz hit consecutive three-pointers midway through the fourth quarter, as six of the Firebirds' seven seniors that suited up scored.
Kirkpatrick led Free State (15-5) with 18 points on 6-for-12 shooting, while fellow senior Chelsea Casady added 12 points with 2-for-4 three-point shooting.
Wright paced LHS with nine points, while Kylie Seaman had eight.
The Lions (3-17) played most of the second half without post player Kionna Coleman, who fouled out with 1:07 left in the third quarter after picking up four first-half fouls.
Abbey Casady, Ciara Carey, A'Liyah Rogers and the injured Courtney Parker were the other Free State seniors honored after the game.
"The biggest thing is, we just really enjoy the kids," Duncan said of his senior class. "I'm going to miss being around them in games and practices and even at school.
" ... It's one of those special classes that doesn't come around very often."
Copyright 2018 The Lawrence Journal-World. All rights reserved. This material may not be published, broadcast, rewritten or redistributed. We strive to uphold our values for every story published.