His first two years of high school, though Khadre Lane attended Bishop Seabury Academy, he always made a point to attend the City Showdown basketball games between Lawrence High and Free State.
Photo Gallery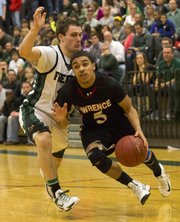 Free State boys vs. Lawrence High
"Man, it looks like so much fun to win in that game," Lane thought.
Now a junior wearing Firebirds green, Lane found out Friday night exactly how exhilarating a rivalry-game victory could be. The 6-foot-4 forward scored a game-high 18 points and Free State's defense stymied the No. 7-ranked Lions throughout most of a 44-38 Senior Night home win at FSHS.
It wasn't Lane's first City Showdown — the Firebirds lost 55-49 at LHS Dec. 14 — but it was the first time he got to let loose and celebrate with a flood of his classmates, who rushed the floor after FSHS held Lawrence to a season-low 38 points.
"We lost the first one, so it was a really bad beginning feeling," Lane said of his showdown experience. "But as soon as the clock hit zero, I think I jumped about 10 feet in the air. That was the most excited I've been in a long time."
Although Free State entered the fourth quarter with a 33-22 lead, Lawrence came storming back and cut its deficit to one twice in the final four minutes.
Leading 40-38 with 1:29 to play, FSHS coach Chuck Law called a timeout and drew up a play for senior forward Cody Scott. Scott posted up on the right block, and patiently backed down junior LHS defender Connor Henrichs before rising up for a successful short jump-hook in the paint.
Firebirds junior Blake Winslow, who scored 10 points and went 4-for-5 from the floor, said FSHS came into the regular-season finale wanting to exploit Lawrence, which starts five guards, for its lack of size. In crunch time, it was the 6-foot-2 Scott's advantage over 6-0 Henrichs that helped seal the game.
"When that went in," Winslow said of Scott's bucket at the 1:17 mark, giving FSHS a 42-38 advantage, "I'm pretty sure we all knew we were gonna win."
Lawrence had opportunities to get closer in the final minute-plus, but missed all five of its final shots.
The Firebirds (9-11) wouldn't have won without some stellar first-half defense, which helped them hold LHS without a double-digit scorer. The Lions (12-8) took their only lead of the game, 2-0, in the opening minute on a transition layup by senior Jake Mosiman. But Lawrence missed all 13 of its other first-quarter shots and didn't improve much in the second quarter, going 1-for-9. A three from sophomore Anthony Bonner (nine points) with 1:59 left in the first half broke a stretch of more than 13 minutes in which LHS failed to make a field goal.
Free State led 22-7 at halftime, and Lawrence coach Mike Lewis couldn't put his finger on what led to his team's early offensive woes.
"We played better in the second half. We weren't great. We were better," Lewis said of the final 16 minutes, when the Lions outscored their rivals 31-22. "That first half was so stagnant and so bad on the offensive end we just dug ourselves too big a hole."
LHS senior Drake Hofer, who scored seven of his nine points in the fourth quarter, leading Lawrence's late surge, said the Lions shouldn't expect to win a game in which they scored just seven points in a half.
"We just couldn't hit a shot, couldn't get anything to fall," Hofer lamented. "I don't think it was really the stage or anything, because we've played in big games. We really couldn't get anything to fall and it snowballed from one player to another."
Law, who went with an all-senior starting five for his team's home finale, said Class of 2013 members Scott, Wilson Hack, Kyle McFarland, Chris Heller and Logan Bannister lifted the rest of the team with their early defense.
"The seniors got the game off on the right footing," Law said. "Most people probably would have thought we would be down 6-0, 8-0,"
Instead, Free State took a 6-2 lead into the second quarter and built upon it with 10 second-quarter points from Lane, including a buzzer-beating put-back of his own miss to close the half.
Of course, Lawrence began playing closer to its capabilities in the third quarter, when Austin Abbott, Bonner and John Barbee all hit three-pointers to cut into the Free State lead.
Even after the Lions opened the fourth with Barbee swiping two steals and combining with Hofer to score the first seven points of the final period, Winslow said Free State didn't buckle under pressure as LHS roared back.
"With the circumstances of the game, we knew they were gonna come out (and rally)," said Winslow, who made one of Free State's two fourth-quarter baskets on a jumper. "We were prepared for them to make that run and once it happened we were able to keep calm and just look for shots that were open and knock them down."
Hofer, who knows how Lane felt after coming out on the winning side, said the rivalry loss hurt for all of the Lions.
"These games don't go away," he said. "You remember them the rest of your life."
Copyright 2018 The Lawrence Journal-World. All rights reserved. This material may not be published, broadcast, rewritten or redistributed. We strive to uphold our values for every story published.