The Lawrence Public Library Foundation hopes members of the community will come to the library this weekend, not to read, but to play mini golf and help raise money for the foundation at its event, Caddy Stacks.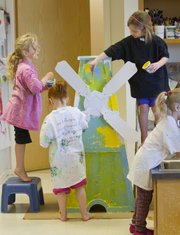 "Essentially we build a mini-golf course that winds its way around the library," Kathleen Morgan, Lawrence Public Library Foundation Executive Director, said. "This year it's being held at the empty library, (707 Vermont St.), because we're getting pretty close to construction starting, so it's a once-in-a-lifetime opportunity to play in an old building."
This is the fourth year the foundation has hosted the fundraiser. In previous years, themes have been a basic library theme and a Halloween theme, but after having a successful Lawrence Masters theme last year, the foundation decided to bring it back.
There are 18 holes. Each has been designed or built by a local group and somehow represents Lawrence.
"One of the neatest parts of the events is you look down the fairway and see all this incredible creativity that is just reflective of Lawrence," Morgan said.
One hole is a mini replica of the Dole Institute, and the Liberty Hall hole will be a tribute to cinema, complete with props and supplies from the hall.
Morgan said one hole is inspired by a dutch windmill that once stood at the corner of Ninth Street and Emery Road. It was built by a Lawrence Arts Center preschool teacher's father and painted by a group of preschoolers at the center. The students painted the windmill using yellow and two hues of blue. They also painted golf balls to line the course.
"It was fun, the children enjoyed it," said Linda Reimond, arts-based preschool director at the arts center.
The event will help the foundation support the library's programs and projects, including summer reading, Read Across Lawrence, murals and other special projects.
Caddystacks is a weekend-long event.
Friday will be the Lawrence Masters Party and Tournament for adults. The Mingle with the Masters pre-party will begin at 6:30 p.m. for $50 and adult open golf begins at 7:30 p.m. for $35. There will be appetizers from the Salty Iguana and Johnny's Tavern, drinks and special guests from the Lawrence area who are considered "Masters" of the community, at the pre-party.
Special guests include Kansas University Athletic Director Sheahon Zenger and Lawrence Memorial Hospital CEO Gene Meyer. During open golf, there will be light snacks and drinks. At the end of the golf tournament, the winner will win a book jacket in lieu of a green masters sports coat.
Family golf is open from 9 a.m. to 5 p.m. Saturday and from noon to 5 p.m. Sunday and costs $5 per person or $20 for a group of six. Children 3 years old and younger get in free.
Copyright 2018 The Lawrence Journal-World. All rights reserved. This material may not be published, broadcast, rewritten or redistributed. We strive to uphold our values for every story published.