The Lawrence High girls struggled against Shawnee Mission North's full-court press, turning it over 33 times in a 51-37 loss to the Indians on Tuesday night at LHS.
Photo Gallery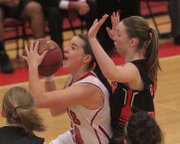 Lawrence High girls vs. Shawnee Mission North
"It was extremely frustrating," LHS coach Nick Wood said. "Offensively, we let their pressure really affect what we were trying to do."
Both teams started out cold early, combining to miss their first 20 field goals.
With 2:30 left in the first quarter, LHS led, 1-0, despite missing its first eight shots. North, at the time, was 0-for-12.
"We were glad to still be in the game," Wood said, "but even early on, we weren't doing a good job of (stopping) dribble penetration."
North scored the final six points of the second quarter to take a 22-15 halftime lead before starting the second half on a 7-0 run. The Indians never let the lead dip under double figures after that.
One highlight for LHS (3-16) was its pressure defense, as North finished with 29 turnovers.
The Indians made up for that deficiency, though, by dominating the offensive glass. North finished with 25 offensive rebounds compared to 24 defensive rebounds for LHS.
Junior forward Kionna Coleman led the Lions, posting 14 points with eight rebounds. Senior guard Anna Wright added nine points.
Bri Anderson, Emma Kelly and Kylie Seaman were the other seniors honored after the game.
"They mean a ton to me, because they have bought into our program, and they've worked extremely hard for me for three years," Wood said. "This is the first group that I've had their entire team through their Lawrence High careers.
"They're an extremely special group, and more importantly, they're awesome kids. They're all going to go on and be successful, and I'm excited to watch them grow."
Copyright 2018 The Lawrence Journal-World. All rights reserved. This material may not be published, broadcast, rewritten or redistributed. We strive to uphold our values for every story published.