Four Lawrence High wrestlers won Class 6A regional titles and five more secured state-tournament berths, but no Lion had an easier Saturday on the mats at Free State than senior Andrew Denning.
Photo Gallery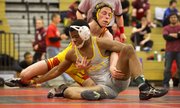 2013 Class 6A regional wrestling at Free State High
The LHS 182-pounder looked the part of 6A's No. 1-ranked grappler, spending all of 119 seconds wrestling on his way to three straight first-period pinfall victories and the regional's Most Outstanding Wrestler award — a pretty stress-free day when Denning thought about it.
"I wasn't really worried about making it to state," he said of finishing in the top four at the regional. "But state's gonna be a different scene."
At least Denning will have a lot of familiar faces surrounding him this coming weekend at Wichita's Hartman Arena, site of the 6A state tournament. Lawrence senior Caden Lynch (138), freshman Alan Clothier (170) and junior Alex Jones (285), as well as Free State freshman Sam Skwarlo (160), each won regional championships of their own. In all, nine of Lawrence's 14 wrestlers and six of Free State's nine finished in the top four of their respective brackets and moved on to the season's final stage.
After LHS earned the runner-up trophy, finishing second to tournament champion Shawnee Mission East, coach Pat Naughton grinned at the prospect of sending nine wrestlers to state.
"We would've liked to get some of those other guys in," the coach said of the five who didn't advance, "but they were just too young — we bumped up a couple younger guys to fill our lineup."
Naughton said all of the Lions gave what they could in a win-or-go-home scenario.
"Sometimes it comes down to a matter of seconds," he said with a laugh, shortly after Jones closed the tournament with a thrilling turn-around.
Lawrence's junior heavyweight, Jones found himself in a precarious spot against SM East's Dominique Atkinson in the second period of his title bout. With the clock winding down, Jones reversed out of Atkinson's hold and used his momentum to roll over on top of his foe — a move he learned from sophomore teammate Malik Davis. Jones pinned Atkinson's shoulders to the mat just as the seconds on the clock reached zero.
"That pin, I didn't even realize I was gonna get that pin," Jones said, shaking his head. "It was just a complete chance."
That title match was the sixth featuring an LHS wrestler. Juniors Xavier Kenney (106) and Garrett Girard (126) lost in the finals and took second. In the consolation finals, Lawrence senior Tim Thongone (120) and junior Ryan Bellinger (152) won via pinfall for third place, while sophomore Jhon Jacob (113) lost and took fourth.
"We are consistently a good team," Jones said. "We're so reliable in some of our weight classes that it creates a fear in the other teams."
Skwarlo one of six Firebirds to advance
As regional host, Free State didn't want to leave its home gymnasium without a champion of its own. But if someone had told the Firebirds at the beginning of the season their champ would be freshman Sam Skwarlo, no one would've believed it. Including Skwarlo.
Back in December, FSHS coach Mike Gillman put the freshman in a junior varsity tournament just so he could get a win. A couple months later, there he was, utilizing double-leg takedowns en route to a 3-0 record and a regional title.
"I came a long way," Skwarlo said. "At first I was worried about winning one varsity match, and now I'm here. I started out pretty bad, but have improved a lot. I just try to improve every day."
Free State finished sixth out of the eight teams at the tournament, but extended the season for six of its grapplers. Senior Ben Soukup (152) reached the title round, but lost a 3-1 decision to SM East's Jack Mitchell and finished second. Junior Sterling Ozark (285) won three of his four matches, including the consolation final, for third place. Freshmen Quailan Fowler (106) and James Wensel (126) and junior Maurice Jacobs (132) all lost their third-place matches, but will move on to state.
"We had to work to get those six in," Gillman said. "We had to work pretty hard."
The Firebirds had no one competing in the 220-pound bracket, because freshman Michael Mattox broke his left leg at practice on Wednesday.
Copyright 2018 The Lawrence Journal-World. All rights reserved. This material may not be published, broadcast, rewritten or redistributed. We strive to uphold our values for every story published.