Topeka — One might assume Free State High junior Canaan Campbell grew tired Saturday of looking over to the adjacent lane at the Class 6A state swimming championships and seeing Blue Valley Northwest senior Jesse Musser.
In fact, after finishing second to Musser in both the 200-yard freestyle and 500 free finals at Capitol Federal Natatorium, Campbell didn't possess a drop of disdain for his competitor.
Photo Gallery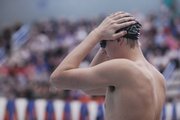 2013 Class 6A swimming state championship
"I've always looked up to him my whole life," Campbell revealed, after his pair of individual silver medals helped the Firebirds finish fifth in the team standings. "I really like racing him, because I know he's gonna make me be my best. But he's so good, it's hard to catch him and beat him."
FSHS couldn't match the depth of 6A champion Wichita East, runner-up Shawnee Mission East or third-place Blue Valley North, but coach Annette McDonald said Campbell's new personal records in the 200 free (1:42.35; also a school record) and 500 free (4:37.66) were just a couple of examples of the Firebirds finding ways to score major points, even though they didn't have multiple entries in any of the championship heats.
"Our guys just stepped it up today," the coach said. "Almost everybody did a better time or better place (compared to Friday's prelims) to really make a difference."
Free State's swimmers not only earned 10 top-eight finishes, but set four school records. The initial new program standard came in the first final of the morning, when senior Connor Munk, sophomore Josh Terrell, senior Ben Sloan and sophomore Jack Ziegler took third place in the 200 medley relay with a 1:38.13 time. Next came Campbell's 200 free, then Sloan took third in the 100 fly (51.01) and Terrell swam to third place in the 100 breast (1:00.32).
Being a part of two records easily highlighted the day for Terrell, who didn't join Free State until midway through the season. A member of the Lawrence Aquahawks club team, the sophomore's only regret was that he didn't reach the 200 IM championship heat. Terrell, who said he never swims as well in prelims as finals, won the B final for the 200 IM and received ninth place. His 1:59.47 time was better than two swimmers in the A final. Then, as the No. 5 seed in the 100 breast, he placed third.
"I wanted to score for the team," Terrell said, "and I guess I was just more motivated. It's the last meet, last swim. I wanted to give it all."
So did Sloan, whose FSHS career ended at state. When the University of Massachusetts signee placed fourth in the 200 IM, he tossed his swim cap and goggles out of the pool and onto the concrete deck.
"I know I'm capable of a bit more, and could've contributed more to the team, got some more points," Sloan said of his disappointment.
But he took a few moments in the pool to think about the race, hopped out and moved on, later beating his own school record in the 100 fly.
"You can never be disappointed with a lifetime best," he said.
Sloan, Munk, Ziegler and Campbell finished fourth in the 400 free relay. Munk placed seventh in the 100 free and eighth in the 100 back. Ziegler, Nickolas Becker, Hunter Robinson and Campbell placed seventh in the 200 free relay. Ziegler took 16th in the 50 free.
It wasn't enough to crack the top four in the team standings, but FSHS edged Olathe East by two points and Maize by four.
"We have a lot of quality swimmers," Sloan said. "For as few swimmers we have compared to them, we swam pretty well. Our group of guys definitely held their own."
Campbell and Sloan earned first-team all-state honors for Free State, and Terrell made the second team.
Competing in just two events (both B finals) Saturday, Lawrence High finished 16th in both.
Though the Lions' 200 medley relay team — seniors Adam Edmonds, Patrick Bennett, Nathan Evers and Tyler Bradfield — shed close to two seconds off their prelim time from the day before, 1:49.09 (a season high) only got them eighth in their heat.
"There's no disappointment at all," Bradfield said. "All you can do is be proud."
Later, Edmonds placed 16th in the 100 back, with a time of 58.49.
Copyright 2018 The Lawrence Journal-World. All rights reserved. This material may not be published, broadcast, rewritten or redistributed. We strive to uphold our values for every story published.