Photo Gallery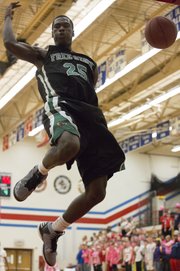 Free State boys vs. Olathe North
Olathe — Khadre Lane took one dribble, pulling up for a 19-foot jumper early in the second quarter that clanged off the iron.
On the dead ball, Lane snapped his head back toward the bench in disgust. Just as he expected, Free State coach Chuck Law was giving him "the look" — the one that meant, "Don't settle for jumpers. Drive it."
The message was received after that, and an aggressive Lane carried Free State's offense in a 60-55 victory over Olathe North on Friday night.
The junior finished with a team-high 20 points on 8-for-14 shooting to go with eight rebounds.
"I'm much better, and the team's much better when I'm getting to the basket and making plays there," Lane said.
The Free State small forward scored 18 points in the final 22 minutes and also was active defensively at the top of his team's 1-3-1 and amoeba zone defenses.
"I told him the other night, after the Oklahoma State-KU game, I told him we needed him to be (OSU guard) Marcus Smart. He's been giving us Maxwell Smart," Law said. "But tonight, he played like a man — a young man."
Lane's highlight came midway through the fourth quarter, when he anticipated a looping North pass to steal it near mid-court.
With no one between him and the rim, Lane took two big steps before elevating for a one-handed slam.
Lane shook his head toward the bench after the high-flying dunk, since he started it farther away from the rim than he had planned.
"I was going to try to take another dribble, but I didn't want to travel or anything," Lane said. " ... So I jumped as far as I could, and it went in."
The play gave Free State a 57-43 lead with 4:16 left, and the Firebirds held on despite sloppy play late.
Free State (8-9) will play at Blue Valley West at 7 tonight.
Copyright 2018 The Lawrence Journal-World. All rights reserved. This material may not be published, broadcast, rewritten or redistributed. We strive to uphold our values for every story published.