Shawnee — Forcing 28 turnovers usually is a good formula for producing an upset on the road.
Photo Gallery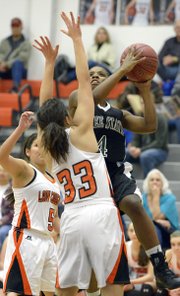 Free State girls basketball vs. SM Northwest
The No. 9 Free State girls basketball team's struggles in other areas made that statistic irrelevant, however, as the Firebirds fell, 57-47, to No. 6 Shawnee Mission Northwest on Tuesday night.
"We didn't play very good team basketball tonight," FSHS coach Bryan Duncan said. "We got away from what we've been doing. We played with tremendous effort, but we didn't play smart tonight."
Part of the Firebirds' issues were on the offensive end, where Duncan said his team was sped up by the Cougars' defense.
The result was 20 Free State giveaways to go with an uncharacteristic poor shooting night. FSHS made just 31 percent of its shots (16 of 51) and 16 percent of its three-pointers (three of 19).
"I think we just got a little out of our comfort zone," Duncan said. "We probably could have been a little more patient on offense. We got good shots. We could have gotten better shots."
Defensively, Free State had a hard time stopping Northwest's transition game while allowing too many layups.
The Cougars' two starting post players, Anna King and Brenni Rose, combined for 24 points on 11-for-20 shooting.
Free State also was dominated on the glass, allowing 14 offensive rebounds while picking up just 15 defensive rebounds.
"We've got to rebound better," Duncan said, "and I think that's by actually slowing the game down and being a little more patient on both ends."
The Firebirds were led by A'Liyah Rogers, who battled foul trouble most of the night before fouling out. The senior guard scored a game-high 18 points on 7-for-14 shooting, producing most of her points on aggressive drives to the rim.
Chelsea Casady added 11 points, while Free State leading scorer Kennedy Kirkpatrick suffered through one her worst shooting nights this season. The senior scored eight points on 2-for-15 shooting, missing all eight of her three-point attempts.
"What makes us go is ball movement and moving together defensively as a unit," Duncan said. "Tonight we didn't have that."
Free State (12-5) will play at Olathe North at 5:30 p.m. Friday.
Copyright 2018 The Lawrence Journal-World. All rights reserved. This material may not be published, broadcast, rewritten or redistributed. We strive to uphold our values for every story published.