Photo Gallery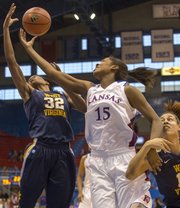 Kansas Women's Basketball vs. West Virginia
Related document

KU-West Virginia women's box score ( .PDF )
Prior to Saturday's home game against West Virginia, Kansas University women's basketball coach Bonnie Henrickson said one of the focal points for her team down the stretch would be to take care of business at home.
Perhaps Henrickson's team never got that message.
What began as a back-and-forth battle quickly turned into a nightmare for the Jayhawks, who fell to West Virginia, 72-56, on Saturday at Allen Fieldhouse.
Offense was a major struggle for the Jayhawks, who shot just 37 percent for the game — including 35 percent in the second half — scored just 28 points in each half and turned the ball over 15 times.
Most of the turnovers were unforced and came as a result of the Jayhawks simply throwing the ball into traffic and trying to make something out of nothing.
"We dribbled out of bounds, threw it out of bounds, dribbled off our foot, dribbled into 'em," Henrickson recalled after the game. "... We stunk it up today."
KU jumped to a 6-0 lead and appeared well on its way to dominating in the paint. Chelsea Gardner (11 points) scored the first bucket on a strong post move, and Carolyn Davis (14 points, 11 rebounds) added a free-throw-line jumper two possessions later. But the early signs of an off day on offense showed up quickly after that as KU went scoreless for the next 3:31 and allowed the Mountaineers to get comfortable.
Although the Jayhawks stayed close deep into the second half — Gardner's free throw made it 46-44 with 11:30 to play — it seemed like KU was out of sync offensively for much of the afternoon.
"We just didn't really play well together all day," said Davis, who led the Jayhawks with 14 points and 11 rebounds.
Beyond that, the Jayhawks shot just 2-for-21 from three-point range and allowed WVU's game plan of clogging the middle — to prevent Davis from dominating — to work to perfection.
"I thought we were soft," Henrickson said. "We just never had much rhythm or flow. We never attacked."
Henrickson's criticism was not limited to the offensive end. The Jayhawks also struggled mightily on defense, particularly when WVU's guards chose to drive to the rim.
"Toughness comes from the nitty-gritty stuff, and we didn't have much of that," senior guard Monica Engelman said. "It was a total team breakdown."
Added Davis: "We'd make mistakes and then get down, and then one mistake would turn into three or four. That's kind of our theme right now, and we just have to work through it."
The Jayhawks (14-8 overall, 5-6 Big 12) and Mountaineers (14-9, 6-6) traded leads nine times in the first half and 15 times total before West Virginia hit the Jayhawks with a knockout punch.
After Gardner's charity shot cut the KU deficit to two, the Mountaineers responded with a 21-6 run over nine minutes that iced it.
Even as the WVU lead was building and before the Jayhawks were all the way out of it, they airballed three-pointers and continued to struggle defensively inside. Perhaps the best indication of just how off the Jayhawks were came from the fact that many fans started filing out with 5:27 to play and KU down by just 12.
KU returns to action at 7 p.m. Wednesday, when it travels to Fort Worth, Texas, to take on TCU. Asked after the game if anger and embarrassment could play a part in her team's bounce-back, Henrickson wasted no time answering.
"I hope so," she said. "I would like for them to feel like I do right now."
Copyright 2018 The Lawrence Journal-World. All rights reserved. This material may not be published, broadcast, rewritten or redistributed. We strive to uphold our values for every story published.