Olathe — Justin Roberts couldn't fight back a smile Friday night at Olathe North.
Lawrence High's freshman point guard had just pulled up in transition from the left elbow and drained a jumper, his fourth straight basket in a critical stretch for the Lions, who trailed throughout the second and third quarters on the road.
Photo Gallery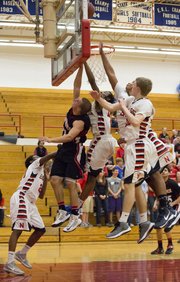 Lawrence High boys basketball vs. Olathe North
"I was just happy my shot was falling, because it hasn't been falling the past two games," Roberts revealed following a 54-48 LHS victory in which he scored 11 fourth-quarter points. "I'm glad it finally started to go for me."
Roberts couldn't have found his touch at a better time. He drilled a pair of three-pointers in the third quarter to keep LHS (11-5) close to the Eagles (4-12), then hit four of his five shots and made a pair of free throws in the fourth.
O-North led 43-38 the first minute of the final quarter before Roberts went off. Shortly after one of Anthony Bonner's eight free-throw makes on the night, Roberts took a steal in for a layup to cut the Eagles' advantage to two. His three-pointer with 6:08 left on the clock gave Lawrence its first lead since the first quarter, 44-43, after Jacob Seratte kept a possession alive with one of his nine rebounds.
The Eagles' Josh Moore briefly regained the lead for O-North with a pair of free throws, but Roberts answered with a drive to the hoop for a lay-in. His pull-up in transition gave him nine points in a span of less than three minutes.
Coach Mike Lewis needed one of his Lions to take over, because they had made just seven of their 25 shot attempts in the second and third quarters.
"When he starts to get a good feel about him, he's one of those players that we want to set up and let him keep his flow going," Lewis said. "Without me getting in the way, our guys are good about that, and they see who they want to get the ball to and make plays for each other. It's fun to sit back and let Justin make those plays."
The Lions didn't look like themselves for most of the road victory, hitting just 18 of their 48 field-goal attempts. In the first half, a bad stretch defensively put them in a hole and they struggled to crawl out of it until late. Roberts said that troubled him and his teammates.
"I don't think we took it as seriously as we should have," he said. "We didn't come out strong from the beginning. We should've played the way we normally do the whole game. At least we got it back in the second half."
After Roberts' hot streak, junior sub Connor Henrichs hit a jumper to stretch the LHS lead to 50-45. Henrichs finished with five points, hustled on defense and came up with four key rebounds.
Bonner, who missed practice all week while battling sickness, came off the bench and scored eight of his 10 points at the foul line.
Though senior Jake Mosiman's shot wasn't falling most of the game, he scored seven points and made an impact by getting to nine rebounds.
As always, Austin Abbott and Drake Hofer proved integral with their energy on defense and chipped in with rebounds and passing, too. Hofer dished three first-quarter assists and forced a five-second call on defense late in the third quarter.
The Lions play host to Shawnee Mission South on Tuesday.
Copyright 2018 The Lawrence Journal-World. All rights reserved. This material may not be published, broadcast, rewritten or redistributed. We strive to uphold our values for every story published.