Earlier this year, Free State High's boys basketball team might not have recovered from surrendering a halftime lead. That version of the Firebirds, which lost seven straight games, appears to have vanished, though.
Photo Gallery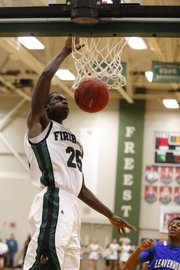 Free State boys basketball v. Leavenworth
Images from Tuesday night's game against Leavenworth at Free State High School.
With junior forwards Khadre Lane and Cole Moreano leading the way Tuesday night, FSHS found its energy in the second half at home after surrendering its lead and defeated visiting Leavenworth, 64-48.
Free State coach Chuck Law liked the way his team responded to win its fifth straight game after the Pioneers opened the third quarter with a 9-2 run. The starting unit of Lane, Moreano, Reshawn Caro, Keith Loneker and Logan Bannister decided then to dig in.
"That's where maybe earlier in the year we didn't have the resolve to do what we did," Law said of his team's ensuing 13-3 explosion in the following 2 1/2 minutes. "I was close to putting that second group back in. In fact, I told 'em, 'One more possession and you guys are in.' But the first group never panicked and hit some big shots."
Trailing 27-23 less than three minutes into the second half, the Firebirds (7-7) got started with a Caro three-pointer. Then Loneker hit Moreano for a jumper, allowing FSHS to regain the lead, 28-27.
After Pioneers junior guard Jason Randall hit a three to give him nine second-half points in a hurry and LHS (6-9) took back the advantage, Lane tied the game at 30 with a pair of free throws at the 4:10 mark.
Then came the play that changed everything. Lane snagged a loose ball near mid-court and raced to the rim for a thunderous, right-handed jam and drew a foul on his way to the rim. After flushing home his second dunk of the night, Lane unleashed a scream and turned to the FSHS student section after putting his team ahead, 32-30.
As it tuns out, Lane, who scored 12 of his game-high 25 points in the third, had been razzed a few times about not dunking after contact.
"I just keep hearing, 'No and-one dunks, blah, blah, blah.' So I was like, 'OK, I'm gonna finally get one.' It went down and I just lost it," Lane said.
Although Lane missed his free throw, Moreano said the highlight provided the rest of the team with fuel to send Leavenworth to its sixth straight loss.
"Whenever he gets a dunk and looks at the crowd, it ignites everybody," Moreano said after scoring 10 of his 14 points in the second half. "I always get pumped up and feel like I'm gonna make everything after that."
The Firebirds never trailed again, took a 42-37 lead into the fourth, and shut down the Pioneers in the final minutes. FSHS outscored LHS 9-2 in the first three-plus minutes of the fourth, which began with two buckets by senior Cody Scott (10 points, seven rebounds, two blocks), a coast-to-coast layup for Moreano and a basket by Lane.
Law admitted the Firebirds rally around the kind of energetic plays Lane provides with his athleticism.
"You get energy on defense from offense, which isn't how it's supposed to be," Law said after FSHS picked up its intensity in the second half and held LHS to 18-for-48 shooting in the game. "But that's the way most high school players function."
FSHS plays host to Olathe South at 7:30 p.m. Friday.
Copyright 2018 The Lawrence Journal-World. All rights reserved. This material may not be published, broadcast, rewritten or redistributed. We strive to uphold our values for every story published.