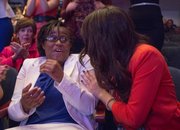 Boys and Girls Club of Lawrence has named Free State High School senior Ajala Anavberokhai its 2013 Youth of the Year.
More than 250 people gathered Wednesday night at the Lied Center, 1600 Stewart Ave., to witness the awards ceremony. Anavberokhai and runner-up Jalyn Brecheisen, a Lawrence High School senior, both addressed the crowd, explaining what Boys and Girls Club meant to them.
"I was a kid, and all kids need love and support, and that's what it did for me," Anavberokhai said. "I'm saying thank you to my club members."
Participants in the Youth of the Year contest wrote eight essays about the club and other aspects of life, as well as competed in front of a panel of judges.
"I'm super proud of Ajala," said Boys and Girls Club director of development Erika Zimmerman. "I'm very proud to see her grow from the shy little girl to being on stage at the Lied Center."
Anavberokhai, who has been in the program for 11 years, has some large shoes to fill.
Lawrence's 2012 Youth of the Year, Trei Dudley, went on to win the Boys and Girls Clubs of America National Youth of the Year title and meet President Barack Obama.
Dudley was on hand to speak about her experiences and congratulate this year's participants.
Kansas University football coach Charlie Weis also spoke and addressed the children in the crowd with his own advice.
"Be kind, be courteous, be compassionate, and what you want adults of America to say the most about you is, 'That is a fine man' or 'That is a fine lady,'" Weis said.
As Youth of the Year, Anavberokhai will receive a $1,000 scholarship provided by Reader's Digest. She will go on to compete at the state level.
"I'm hoping and praying I go as far as Trei," she said.
Lawrence Boys and Girls Club serves 1,200 area youths a day.
Copyright 2018 The Lawrence Journal-World. All rights reserved. This material may not be published, broadcast, rewritten or redistributed. We strive to uphold our values for every story published.