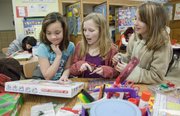 How to help
There's one ingredient missing in the Power Hour Kits: academic enrichment volunteers to work with students.
"One of the things we realized early on is that kids who are at the greatest risk of not succeeding academically do not just need more things — they need people engaged with them in learning beyond the school day," says Jane Buxton, a retired Lawrence teacher who is a member of the United Way Community Impact committee and former member of the United Way board of directors.
Volunteers don't need a background in education. For more information, contact Zach Hall, Boys and Girls Club volunteer coordinator, at volunteer@bgclk.org or 841-5672.
The eyes of every squirmy kindergartner in the classroom were on the plastic dinosaurs held by a Boys and Girls Club of Lawrence staff member.
It's Power Hour during the Cordley School after-school program, and the kids are digging into the science Power Hour Kit, one of five packed full of educational activities designed to make Power Hour truly powerful in terms of students' academic achievement. The once-neat circle now resembles a mosh pit as the kindergartners pack in closer and closer, eager to add their thoughts to the lively discussion on dinosaur diets.
"What do you call a dinosaur that eats both plants and animals?" the club staff member asks. One boy shouts out: "Sick!"
"How do they eat a skunk with all the stinky stuff in them?" another wants to know, fostering giggles.
Throughout the school, students are cloistered in classrooms, still learning, long after the last bell has rung for the day, thanks the Power Hour Kits, which are a lot less like school and a lot more like fun.
"It's pretty amazing because we don't have to just sit down and do boring stuff," says Larence Clark, a third-grader at Cordley. "We can do activities and stuff, not like it's boring."
"You are learning, but it's more like games," says classmate Isabelle Davis.
But third-grader Livia Kennedy nails it on the head, summing up the goal of the education-focused partners who came together to create the Power Hour Kits, when she says: "We are doing educational stuff so we can learn and get high grades in class."
Collaboration key to success
According to the Kansas State Department of Education's 2011-2012 Report Card, one in 11 students in the Lawrence school district is not reading at grade level, and almost 25 percent are not proficient in math. These numbers take on greater significance considering that students who don't read at grade level by third grade are four times more likely to drop out of high school, according to a 2011 study conducted by the Annie E. Casey Foundation, a private charitable organization that helps disadvantaged children.
In order to help raise graduation rates in Douglas County, the United Way of Douglas County connected with the school district and the Boys and Girls Club of Lawrence to devise a strategy for helping elementary students bolster academic achievement.
"We came up with a solution that any one of us would not have thought of alone," said Erika Dvorske, president and CEO of the United Way of Douglas County. "As a result, kids are getting the tools and building the relationships to be successful academically, which increases their likelihood of long-term financial stability."
The move was part of the United Way's shift toward funding programs that create long-term change in education, health and self-sufficiency. In 2012 the United Way provided $405,468 to 10 community partners as part of its education community impact goal, fueling the work of collaborative groups focused on ensuring children enter kindergarten ready to learn and fourth- and fifth-graders are working at grade level in math and science.

"Being able to tap into that partnership increases our ability to change kids' lives," said Colby Wilson, executive director of the Boys and Girls Club. "By all of us working together, we can have more impact than all of us trying to do it on our own."
Because it serves 1,200 students a day through its after-school program, the Boys and Girls Club's 10 elementary school sites offered the perfect place to provide students with the supplemental educational opportunity they needed to achieve grade-level proficiency in core subjects. And Power Hour, the 60 minutes already set aside for students to work on homework, seemed like the ideal time.

"We were searching for high-yield learning activities they could participate in during Power Hour that had a high learning outcome, but was fun," Wilson said.
To launch the program, the United Way provided funding to hire two academic enrichment coordinators to work with the school district to develop, implement and monitor the success of the Power Hour Kits.
"Their efforts go hand-in-hand with our work toward district excellence and equity goals — to raise the achievement of all students and close achievement gaps," says Rick Doll, superintendent of the Lawrence school district.
A 'dream come true'
"This is like a dream come true for our organization. This is something we've been aiming toward for a long time," says Monica Dittmer, director of operations for the Boys and Girls Club. "It takes stress off our group leaders, who often don't have an education background. It's a relief for them — it's all right there, all they need to do is lead it."
That's exactly what academic enrichment coordinators Becky Spradlin and Lynn Heffley had in mind. These retired Pinckney School teachers, who together have 73 years of teaching experience, wanted the Power Hour Kits to be filled with activities so fun that kids couldn't wait to do them and so educational that they would supplement the work teachers were doing in the classrooms.
"We are one year into a three-year plan, and over the next year, we will measure the preliminary results in partnership with the school district," Dvorske says. "Our hope is that we will be able to show demonstrated impact through higher test scores for participating students."
Copyright 2018 The Lawrence Journal-World. All rights reserved. This material may not be published, broadcast, rewritten or redistributed. We strive to uphold our values for every story published.