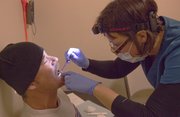 Donald Hinck, who's been living at the Lawrence Community Shelter about two months, hasn't been to the dentist in four years. It's hard to prioritize, he said.
"Some things you have to weigh out and decide, really, what you want to spend your money on," he said.
Hinck was among guests at the homeless shelter, located at 3655 E. 25th St., who got dental care on Tuesday when volunteers came to them, free of charge.
A Douglas County Dental Clinic hygienist was on hand offering visual screenings — to check for swelling, visible decay and pain — and fluoride varnishes — to prevent decay and help with sensitivity.
Guests got suggestions for needed treatment and, if they wanted, help setting up appointments. The non-profit clinic charges for services on a sliding scale, and some guests may qualify for assistance through KanCare or ECKAN.
Clinic representatives have visited the shelter for educational efforts, but Tuesday was the first time they actually performed services, clinic outreach coordinator Brianne Koester said.
Koester said many people would be unlikely to go to the dentist on their own but that offering on-site help was hoped to help bridge the gap.
"Coming here, I think, is a first step in meeting them part way," she said.
Hillary Jones of Lawrence, a former dental assistant, organized Tuesday's effort and hopes to continue oral hygiene outreach and education at the shelter.
Jones recently started volunteering at the shelter after she lost her job at a dentist's office due to budget cuts. Being at the shelter regularly and establishing a rapport with guests helps them feel more comfortable, she said. And when it comes to dental hygiene, keeping it up is the easiest way to prevent much more serious problems.
"It affects your overall health," Jones said.
Tuesday morning, dental hygienist Mary Marshall had already seen seven guests in the first hour of the day-long effort.
While Hinck didn't immediately schedule an appointment, he filled out paperwork and plans to do so in a few weeks.
Hinck said he's starting a new job soon and expects to have benefits that will enable him to go to the dentist.
"I'll be able to have money coming in," he said, "and I'll be able to go and get my teeth cleaned."
Copyright 2018 The Lawrence Journal-World. All rights reserved. This material may not be published, broadcast, rewritten or redistributed. We strive to uphold our values for every story published.