A 48-year-old Lawrence man died Tuesday after Lawrence-Douglas County Fire Medical personnel removed him from underneath a Ford Excursion that afternoon, a Fire Medical spokesperson said.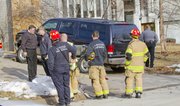 Lawrence police joined fire and medical personnel in response to the call at 1:58 p.m. on the 3200 block of Saddlehorn Drive after a family member reported the accident. 
Capt. Anthony Brixius, a Lawrence Police Department spokesperson, said emergency crews used the Jaws of Life to remove the man from under the vehicle. He was taken to Lawrence Memorial Hospital as medical personnel performed life-saving measures. Fire and medical personnel were seen loading the man into an ambulance while performing CPR at 2:10 p.m.
Brixius didn't describe the accident except to say that it involved a Ford Excursion that had been propped on blocks and boards in a driveway on a hilly street. 
Division Chief Eve Tolefree, a Lawrence-Douglas County Fire Medical spokesperson, confirmed the death of the victim. Lawrence police said the man's name would not be released until Thursday.
-Elliot Hughes contributed to this report.
Copyright 2018 The Lawrence Journal-World. All rights reserved. This material may not be published, broadcast, rewritten or redistributed. We strive to uphold our values for every story published.