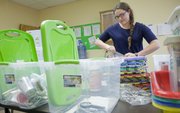 While her classmates were at home enjoying their winter break, Lawrence Free State sophomore Eliot Eckersley was hauling boxes, cleaning toys and sorting learning materials for Child Care Aware on Monday morning.
Eckersley was taking part in one of the semester break service projects of the Student United Way of Douglas County, a new group created by alumni of the United Way of Douglas County's 2013 Summer of Service program who wanted more volunteer opportunities as the year progressed.
Together, the program's alumni worked with the United Way of Douglas County to form the Student United Way, organizing recruitment drives at local high schools and arranging service projects during winter break.
Though she could have been relaxing at home, Eckersley said she and other Student United Way members would rather be putting their free time to good use.
"If you can do something that would help someone a lot," Eckersley said, "why not do it?"
Shelly Hornbaker, Roger Hill Volunteer Center coordinator for United Way of Douglas County, said this attitude is the precise goal of the new student group, which strives to promote volunteer awareness and opportunities in the community.
"We're trying to develop lifelong volunteers with this program," Hornbaker said. "When students have positive experiences with service, they grow up to help their communities wherever they live."
This week, 16 Student United Way members will be helping at five local organizations, playing Bingo with retirement home residents, cleaning and organizing materials at local nonprofits and packing away holiday decorations at Lawrence Memorial Hospital.
Hornbaker said seeing the young people's enthusiasm for service is encouraging.
"I'm energized and inspired by these students," she said. "Their initiative makes me feel our community is in good hands as they go on to become our future leaders."
Area high school students interested in volunteering with the Student United Way can contact Hornbaker at 785-865-5030 or at volunteer@rhvc.org.
Copyright 2018 The Lawrence Journal-World. All rights reserved. This material may not be published, broadcast, rewritten or redistributed. We strive to uphold our values for every story published.