Name: Matthew Smith
Age: 29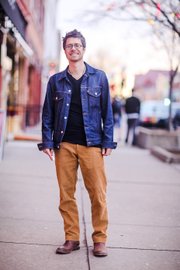 Relationship status: Yes, I'm in one.
Hometown: St. Joseph, Mo.
Time in Lawrence: A couple of years
Occupation: Sales manager
Dream job: Probably anywhere from an archeologist to college professor or artist
What were you doing when scouted? We were out getting olive oil for my girlfriend's parents.
Describe your style: Probably that of an alternative country musician. For work, I dress classier.
Fashion trends you love: I like pea coats, v-necks and I'm a bit of a texture person as well. I like dressier shoes so I love leather soles on boots or a nice pair of wing tips. I also like jeans that are slim but not skinny. Clothes have to fit my personality for me to like it.
Fashion trends you hate: The whole hipster thing to me is a little too much. I don't have anything against it but it's not for me.
What would you like to see more of in Lawrence? More (diverse) food (choices) like Nepali or Ethiopian food. There's a good Korean restaurant called O Café that I like.
Less of? Nothing comes to mind
Tattoos or piercings: None
What type of music do you unwind to: Stephen Stills, Ryan Adams, Jackson Brown to Weezer, Gillian Welch and classical music like the Tree of Life.
Tell us a secret:
I heat up towels in the dryer for my girlfriend's cat. They love lying on the warm towels in the morning.
Copyright 2018 The Lawrence Journal-World. All rights reserved. This material may not be published, broadcast, rewritten or redistributed. We strive to uphold our values for every story published.