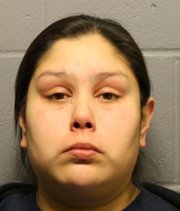 Lawrence crime, fire, courts coverage
Have a tip?
Contact Journal-World reporter Caitlin Doornbos:
A 27-year-old Lawrence woman was charged Thursday with second-degree murder in connection with a fatal stabbing early Christmas morning.
Marci Deshayna Cully was arrested and jailed Wednesday after what police described as a domestic disturbance. Appearing in Douglas County District Court by video from jail, Cully was charged Thursday with intentionally killing Wayne Francisco, a potential level-one felony that carries a maximum penalty of 54 years in prison.
Douglas County District Court Judge James George appointed an attorney, Courtney Henderson, to represent Cully and set her bond at $150,000.
Cully asked for lower bail, saying she lived with her parents and had a job, and therefore had no intention of fleeing the state. George denied her request.
Chrissy Abramovitz, a trial assistant with the Douglas County District Attorney's office, said the D.A.'s office would not comment on the details of the relationship between Cully and Francisco.
At 3:30 a.m. Wednesday, police and medical personnel responded to a reported stabbing at The Grove at Lawrence apartments in the 4300 block of West 24th Place.
Francisco died after medics' efforts to save him failed, Sgt. Trent McKinley, Lawrence Police Department spokesman, said Wednesday. After interviewing Cully at the Law Enforcement Center later Wednesday morning, police arrested her, McKinley said.
The court set a preliminary hearing for Dec. 31 at 9:30 a.m.
Wednesday's alleged homicide would be the third in Lawrence this year.
Copyright 2018 The Lawrence Journal-World. All rights reserved. This material may not be published, broadcast, rewritten or redistributed. We strive to uphold our values for every story published.