Lawrence crime, fire, courts coverage
Have a tip?
Contact Journal-World reporter Caitlin Doornbos: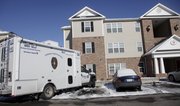 Lawrence police have arrested a suspect in connection with a fatal stabbing Wednesday morning at the The Grove at Lawrence apartments.
Police and medical personnel responded to a reported stabbing at 3:30 a.m. in the 4300 block of West 24th Place, where police found a man with at least one stab wound to the chest.
On first arrival, medics reported the victim to be in critical condition, then went into cardiac arrest at 3:47 a.m., as first reported by Operation 100 News, a blog that covers overnight breaking news.
Medics attempted life-saving measures, but the victim died, said Sgt. Trent McKinley, Lawrence Police Department spokesman.
Police detained and transported the suspect from the scene to the Law Enforcement Center for an interview, McKinley said.
Later that morning, police arrested Marci Deshayna Cully, 27, of Lawrence, on suspicion of second degree murder, according to the Douglas County booking log. Cully had also been arrested in September for criminal property damage.
McKinley said in a news release that police determined the stabbing occurred during a domestic disturbance. Because the incident was related to domestic violence, the police are not releasing the name of the victim, McKinley said.
Cully will likely make her first appearance in court on Thursday.
Copyright 2018 The Lawrence Journal-World. All rights reserved. This material may not be published, broadcast, rewritten or redistributed. We strive to uphold our values for every story published.