You could forgive Doug Holiday, the amiable owner of Bigg's Barbecue on Iowa Street, if he took this year off from his annual charitable efforts -- smoking 50 turkeys for a free Christmas Day dinner at First United Methodist Church that feeds a thousand mouths.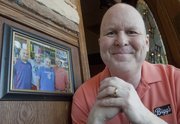 The second half of 2013 brought a bout with non-Hodgkin's lymphoma, which Holiday won, but 600 hours of chemotherapy still weigh on him considerably.
His wife, Shawn, says that during his treatment the goal was to at least make it to the holidays. Now that he has -- not a trace of the cancer remains, Doug says -- it's a matter of getting the family's life back to where it was. That means they'll pick up their tradition of smoking those turkeys, as they've done for nearly a decade.
"There was never a thought in my mind or his mind that he would ever not participate in the community dinner," Shawn says of the one organized by the Community Christmas Dinner Committee.
Doug, 51, was diagnosed in July. He quickly began an aggressive treatment for an aggressive illness. One of every three weeks was spent at Lawrence Memorial Hospital receiving 96 consecutive hours of chemotherapy, he said.
More than a month after his last session, last weak Doug learned he was cancer free. The treatment, nevertheless, left him racked. He used to work 70 hours a week, but in the weeks afterward, he says, he was reduced to 10 hours or less.
Now, his hair starting to come back in, Doug says he has about 60 percent of his energy back, more than enough to help ready those turkeys with Shawn and their three sons, Seth, Jacob and Ben.
It's a lot of work, but Doug and Shawn both speak about the food preparation like any other leisurely holiday tradition: with laughter and reminiscing. Doug says it requires about 12 hours of work apiece, starting Christmas Eve and running through a morning that begins before dawn.
A year off could have been a blessing, but for Doug, Christmas is the essential time of year to give back.
"It is a Lawrence tradition," he says. "And even more this year -- it's even more important to me, just because I got cured at [Lawrence Memorial Hospital], and everybody seems to care."
Copyright 2018 The Lawrence Journal-World. All rights reserved. This material may not be published, broadcast, rewritten or redistributed. We strive to uphold our values for every story published.