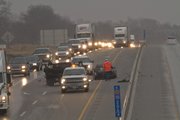 A winter storm dumped a layer of ice, sleet and snow across eastern Kansas Saturday, prompting numerous accidents along Interstate 70 and Kansas Highway 10 between Kansas City, Lawrence and Topeka.
At least eight vehicles were involved in one series of accidents around 3:30 p.m. on the Kansas Turnpike east of Lawrence near the Douglas-Leavenworth county line.
A Kansas Turnpike Authority official said Saturday night she was unable to count how many other accidents had occurred between Lawrence and Topeka. She said some of them involved injuries, but was unable to provide further details.
Meanwhile, a Kansas Department of Transportation official posted photographs on Twitter Saturday afternoon of a rollover accident on K-10 in western Johnson County that brought traffic nearly to a standstill in both directions.
Journal-World news partner Operation 100 reported numerous vehicles sliding off K-10. Lawrence-Douglas County Fire Medical staging crews were posted at the entrances to the Kansas Turnpike to respond to crashes as they happened.
Douglas County dispatch authorities reported a non-injury rollover accident involving one vehicle on K-10 near Church Street in Eudora. Elsewhere in Douglas County, though, officials said there were surprisingly few accidents on county roads.
City officials said Lawrence street maintenance crews will work 12-hour shifts until the winter storm leaves the area. On Friday, crews pretreated roads, and they continued to treat them with salt and sand on Saturday. City officials say freezing rain will make roadways slick and urged caution while traveling.
A winter storm warning had been posted for Douglas County until 6 a.m. Sunday.
The National Weather Service said bitter cold temperatures are expected in Douglas County for the next few days, with wind chill readings as low as minus 10 to minus 15 degrees through Monday night.
Copyright 2018 The Lawrence Journal-World. All rights reserved. This material may not be published, broadcast, rewritten or redistributed. We strive to uphold our values for every story published.