Photo Gallery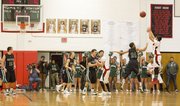 Free State-Lawrence High boys basketball
Someone should tell Lawrence High's boys basketball team that City Showdowns are supposed to come down to the wire.
With no apologies to the spectators who showed up Friday night at LHS expecting late-game theatrics, Lawrence put rival Free State away with minutes to spare in a 67-48 home victory.
LHS (4-1) had the common courtesy to save its celebration until the final seconds, when coach Mike Lewis subbed out rotation players for the guys at the end of the bench. The Lions and their coaches hugged and high-fived to celebrate a fairly relaxing win in the typically more heated matchup.
The Lions' party continued on the floor, too, as junior guard Tae Shorter knocked down a three-pointer with 24 seconds left and backpedalled down the floor cheesing, showing off three fingers and using them to strum his air guitar.
"I love that," junior LHS guard Anthony Bonner said, still smiling about Shorter, and the way his team handled FSHS (3-2). "That's the kind of guy Tae is. He's a character. We love having him around. When he hit that the whole bench went wild, and he told us if he hit one he'd do his little three guitar. That was probably my favorite moment of the game."
Added sophomore guard Justin Roberts about the innovative jubilation: "He does that all the time in practice. His motto is: We eatin'. And that was what he said right after he made the shot."
For the last five minutes of the game, that's just the way things transpired: free and easy for Lawrence, nothing working for Free State.
FSHS senior forward Cole Moreano hit a three-pointer with 6:51 to play that cut Lawrence's advantage to 49-41. His classmate, guard Keith Loneker, hit two free throws a little more than a minute later to make it 51-43.
But the Firebirds' offense vanished for the next four-plus minutes as they went scoreless, and LHS added to its cushion one free throw at a time. Senior guard Connor Henrichs, junior guards Ben Rajewski and John Barbee, sophomore forward Price Morgan and sophomore point guard Roberts combined to make nine of 10 free throws. The Lions led 60-45 before Loneker ended the drought with a floater in the paint at the 1:43 mark.
Loneker didn't make any excuses for his team's woes, even though Free State senior forward Khadre Lane only appeared for a couple of minutes in the first quarter, made a jumper, but then couldn't play close to full speed and sat on the bench the remainder of the night.
Senior point guard Loneker — he finished with 10 points, tying fellow senior Reshawn Caro for the team lead — shook his head thinking about the dismal stretch in the fourth.
"We came out like that in the first half: slow," Loneker said. "They hit shots, we didn't hit shots. They played hard, we didn't pay attention and had a bunch of little mistakes, which always come back to bite you."
Free State didn't get many chances to rally because LHS took its sweet time on offense in the fourth, especially in the final four minutes.
FSHS coach Chuck Law saw his team make four of its seven shots in the final eight minutes, but Lawrence milked the clock and connected on 13 of its 15 free throws.
"We got a great look down eight," Law said. "Justin (Narcomey), J-Narc, in the corner there, just came up a little bit short. That would've been a big momentum builder. I still don't know if we get over the hump. They're just so good. When they get you down, there's not a whole heck of a lot you can do. They put five ball-handlers on the court, five guys who can shoot free throws on the court."
LHS spread the wealth on offense, too, in the final game before winter break for both teams. Roberts had a game-high 17 points and Bonner added 12, but role players Henrichs (12), Morgan (nine), Barbee (six) and Anthony Riley (two three-pointers) added to the game's flow and made the win easy.
Said Roberts: "Everybody calls them the other guys, but I think they're just as good as anybody on the team. They can help us in a numerous amount of ways, and that's what we like about them."
Henrichs, who missed five of his first six shot attempts, began making an impact in the third quarter, with a drive and finish over the larger Loneker after Free State had cut a nine-point halftime deficit down to four.
From that moment on, he went six-for-six at the foul line and pulled off a great fake and spin move on the baseline for an easy bucket.
Lewis loved having so many different players helping the cause.
"Early in the game we noticed Connor was being baited into shooting," the LHS coach said. "They were sagging off of him, and I think that caught him off guard early. And then he decided 'OK, I'll be aggressive.' We're proud of the way Connor competes."
LHS started off hot, too, putting Free State in a 20-11 hole by the end of the first quarter, when the Lions went 8-for-14 from the field.
Watching from the bench at the end of the game, Bonner added, made the win even sweeter.
"Those are my favorite type of games, when you really see a team effort," Bonner said. "That's a perfect game. I wouldn't want to have it any other way."
---
Lawrence High boys 67, Free State 48
Free State (48)
Blake Winslow 1-5 3-6 5, Cole Moreano 2-6 1-2 7, Keith Loneker 4-6 2-3 10, Weston Hack 3-9 2-3 9, Reshawn Caro 4-6 0-0 20, Khadre Lane 1-1 0-0 2, Keegan McKinney 1-2 0-2 2, Tristan Garber 0-1 0-0 0, Justin Narcomey 1-3 0-0 3. Totals 17-39 8-16 48.
Lawrence (67)
Justin Roberts 5-9 5-7 17, Connor Henrichs 3-9 6-6 12, Price Morgan 4-6 1-2 9, Anthony Bonner 5-10 0-1 12, John Barbee 1-2 4-5 6, Ben Rajewski 0-1 2-2 2, Anthony Riley 2-3 0-0 6, Tae Shorter 1-1 0-0 3. Totals 21-41 18-24 67.
Free State 11 14 10 13 — 48
Lawrence 20 14 13 20 — 67
Three-point goals: Free State 6-10 (Moreano 2, Caro 2, Hack, Narcomey); Lawrence 7-17 (Roberts 2, Riley 2, Bonner 2, Shorter). Fouled out: Free State, Winslow. Turnovers: Free State 11, Lawrence 8.
Copyright 2018 The Lawrence Journal-World. All rights reserved. This material may not be published, broadcast, rewritten or redistributed. We strive to uphold our values for every story published.