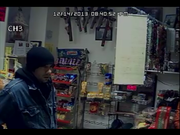 Lawrence police have tied three armed robberies from earlier this month to a 31-year-old Lawrence man arrested Wednesday afternoon.
Jose Roman Recio Flores was booked into Douglas County Jail on suspicion of aggravated robbery. Sgt. Trent McKinley, a Lawrence Police Department spokesman, said police arrested Flores in connection with the Dec. 14 armed robbery at La Tiendita, 3022 Iowa St., in which a suspect entered with a handgun and later left with money.
McKinley said the store's surveillance camera provided the highest-quality footage among the three recent armed robberies and allowed police to get an arrest warrant.
After interviews, McKinley said, police determined they had enough probable cause to arrest Flores in connection with the Dec. 10 armed robbery at AutoZone, 2714 Iowa St., and a Dec. 5 armed robbery at Low Cost Tobacco Mart, 2104 W. 25th St. Earlier this week, police said they believed the three robberies may have been connected.
Flores is in Douglas County Jail on a $30,000 bond.
Copyright 2017 The Lawrence Journal-World. All rights reserved. This material may not be published, broadcast, rewritten or redistributed. We strive to uphold our values for every story published.