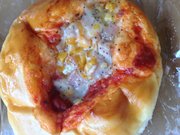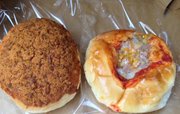 You're not going to find these Asian breads by accident. Located in a small, plain and obscure joint behind Office Depot on 25th and Iowa, Formosa Bakery is a hidden trove of unique Taiwanese-prepared buns.
Sweet or savory, and sometimes both, the freshly baked soft bread acts as a shallow bowl holding chopped ham and corn, with a light mixture of tomato sauce, cheddar cheese and creamy mayo in the center. Other bun options include shredded pork, taro, cream, red bean and black sesame, garlic and ham, coconut, and sweet onion.
Open since August, this bakery sells breads and pastries, both unique and conventional, prepared differently from many traditional baked goods, with less sugar and no preservatives, resulting in a lighter and smoother texture.
Where to get it: Formosa Bakery, 2201 W. 25th St.
What you'll pay: $1.50 each
Try it with: Puffs, for dessert: crunchy almond cookies with a custard filling.
Also on the menu: Along with these exotic Asian buns, Formosa provides typical bakery fare like custard, pudding, cookies, madeleines, cheesecake and assortments of layered, rolled and "pillow" cakes.
Copyright 2017 The Lawrence Journal-World. All rights reserved. This material may not be published, broadcast, rewritten or redistributed. We strive to uphold our values for every story published.