The state has toughened its charges against a Topeka woman accused in the shooting death of a 51-year-old Lawrence man earlier this year.
Brittny Marie Adams, 20, is now charged with premeditated first-degree murder in connection with the July 17 death of Gary Edens. Adams had been charged with second-degree murder before Wednesday's preliminary hearing.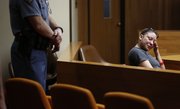 Adams pleaded not guilty after District Court Judge Sally D. Pokorny found probable cause to amend the charges to first-degree murder. Both sides will now return to court on Jan. 13 to set a trial date.
The prosecution's request to amend the charges followed testimony from a former Douglas County Jail cell mate of Adams who told the court that Adams had frequently bragged about killing Edens.
Jessica Eastman testified that she shared a cell with Adams for two and a half days before Adams requested a transfer. In that time, Eastman testified, Adams told her she intentionally killed Gary Edens and had told Johnathan Rush, a Wichita man who drove her to the Edens' home, to kill Jeremy Edens, Gary Edens' son, before the two fled the home. Eastman described the two nights she shared a cell with Adams as being filled with Adams' boasting about Edens' death.
"She said she blew his brains out," said Eastman, who also testified that Adams told her she held her gun to the back of Edens' head and pointed it upward to make it look like the gun had accidentally discharged — something she said Rush, had instructed her to do to create the appearance of an accident.
Eastman's testimony matched accounts from one of the detectives who interviewed Adams several times in the 48 hours after her arrest. M.T. Brown, a Lawrence Police Department detective, told the court that Adams said Rush, 29, drove her to the residence at 647 Michigan St. in search of two girls who abandoned Adams in Topeka and took off with her car.
In one of her interviews with detectives, Adams said that her gun fired as she hit Edens "in a swiping motion" when Edens and his 29-year-old son, Jeremy, struggled with Rush.
Jeremy Edens, who is now in custody in another county on charges unrelated to this case, also testified that he was at the home at which Gary Edens was said to have been living since January when he saw his father answer the door and noticed Adams and a man at the doorstep. Jeremy Edens said he had met Adams through a mutual friend at the same location the Sunday before the shooting, and that he became concerned when he saw his father step outside and close the door.
Though it was unclear who made it known that Adams and Rush had guns, Jeremy Edens said a struggle began soon after he went outside. He said he grabbed Rush as Rush reached for a gun.
Brown testified that Adams told him she brought two handguns to the home to intimidate residents as she looked for information about the girls who allegedly had her car. The gun that was fired into Edens' head, Brown said, was stored in the waistband of a pair of shorts Adams wore under a summer dress.
Jeremy Edens said he heard a gunshot as he struggled with Rush and soon saw his father on the ground, not moving. After hearing the shot, Edens said, he released his grip on Rush and took cover behind a recreational vehicle parked outside the home. Edens said Rush pointed a gun at him but didn't fire before fleeing in a purple Pontiac with Adams.
Brown and Eastman both shared accounts of Adams later describing how she wiped down the gun allegedly used to shoot Edens before throwing it out of a window in Topeka. Brown also said Adams destroyed her cellphone and also threw it out of the car's window after fleeing the scene.
The prosecution, which is being led by District Attorney Charles Branson and Assistant District Attorney Eve Kemple, cited the testimony that Adams pulled the gun out of her waistband and shot Edens at close range, evidence that Adams regularly carried loaded guns and that she tried to dispose of the gun and phone after the shooting as sufficient ground on which to increase the charges.
"There's no set amount of time that equals or translates into first-degree murder," Kemple said, referring to the premeditation requirement in the first-degreee charge. "Just the thought going into it."
Rush and Adams were arrested in southeast Topeka within an hour after Edens' death, which was reported to police at about 6:20 p.m. Gary Edens' then-7-year-old son was also present at the time of the shooting. Edens' widow, Susan Burris attended Wednesday's hearing, which also included testimony from the county coroner and a Lawrence police officer who responded to the shooting call.
Edens' death was the first homicide in Lawrence since 2008 and one of two to take place in 2013. In November, 67-year-old Larry Hopkins was charged with first-degree murder in the shooting death of his 61-year-old wife, Margaret Hopkins, over concerns about her health.
If convicted of first-degree murder, Adams faces the possibility of life in prison without the possibility of parole. She remains in Douglas County Jail on a $100,000 bond.
Rush was arrested on suspicion of lesser charges, including aggravated assault, obstruction and criminal possession of a firearm. Those charges were dismissed in Douglas County when the criminal firearm possession charges were taken up in federal court. Rush pleaded guilty to the federal charge on Nov. 18 and is awaiting sentencing. He remains in federal custody and faces up to 10 years in prison and a fine of up to $250,000.
Copyright 2018 The Lawrence Journal-World. All rights reserved. This material may not be published, broadcast, rewritten or redistributed. We strive to uphold our values for every story published.