Education news
Have a story idea?
Contact Journal-World education reporter Elliot Hughes:
ehughes@ljworld.com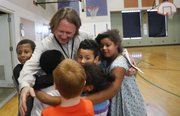 John Bode, a third grade teacher at New York School, received a big surprise during an all-school assembly Tuesday when he learned the assembly was being held specifically to honor him.
Bode was named the Lawrence school district's 2013-2014 Master Teacher, an award given each year to an outstanding educator.
"I don't really feel all that deserving of this award, when I look around at so many great teachers at New York, and all over the district, really," Bode said. "Nothing that happens at New York with our great achievement happens from one person. It happens from all of us caring about the kids and working together, and from the families and the parents, and really from the whole community around New York."
Bode has taught in the Lawrence district since 1995, first as a speech and language pathologist, working with students at Woodlawn, New York, Sunset Hill, Deerfield and Langston Hughes schools.
He became a full-time classroom teacher at New York school in 2003, where he has taught both third and fourth grades.
Before coming to Lawrence, he had worked as a speech pathologist in Denver, and at the Turner school district in Kansas City, Kan.
He earned his bachelor's and master's degrees at Kansas University.
"Having a teacher like John in the building helps us to continuously evaluate our goals, what we are doing and how we could do it better," New York principal Nancy DeGarmo said.
The award comes with a $2,500 check from Truity Credit Union, a member of the Lawrence Education Achievement Partners, or LEAP, which supports the district's teacher recognition programs.
Bode's photo will be displayed at the school district office, and he will automatically be nominated for the Kansas Master Teacher program, which is sponsored by Emporia State University's Teachers College.
ESU will announce Kansas Master Teacher awards in the spring.
Copyright 2018 The Lawrence Journal-World. All rights reserved. This material may not be published, broadcast, rewritten or redistributed. We strive to uphold our values for every story published.