Photo Gallery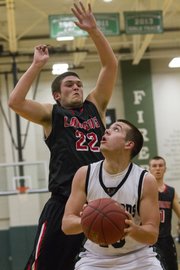 Free State boys vs. Lansing
Trailing Lansing by three with 9.3 seconds left in regulation Saturday, Free State High's boys basketball team needed something big to overcome the second-ranked team in class 5A.
Coach Chuck Law and the Firebirds figured Lansing would be expecting the ball in the hands of senior Cole Moreano, who had 14 points on the night, including a key three-pointer to tie the game at 53. After a timeout, Keith Loneker took the inbounds pass, dribbled to the right side of the floor and kicked it back to junior Weston Hack, who pump-faked a defender and drilled an overtime-forcing three-pointer as time ran out.
"I have hit that shot hundreds of time, and I couldn't miss that time, and I knocked it down," said Hack, who finished with 13 points.
Free State could not carry the momentum of the play into overtime, however, and lost for the first time this season, 71-64.
Free State stopped Lansing on its first possession of the extra period, but the Firebirds committed back-to-back turnovers followed by two straight missed shots, and the visitors pulled away.
"They just took the momentum away," Hack said of the turnovers. "Careless mistakes. We have to be better than that. We had all the momentum going our way but just couldn't pull it out."
Law lamented the lost opportunities in overtime.
"We get the stop the first possession of overtime," he said. "If we (score on our next possession) ... then you have the momentum and it is a different game."
A Tristan Garber three-pointer capped a 9-0 run for Free State early in the fourth quarter, which gave the Firebirds a 50-49 lead, its first since the first possession of the second half. It was the theme of the night for Free State.
"Great determination by our guys," Law said. "We didn't start well and dug ourselves a hole. We got it to one at halftime. They got a run out to get it to seven in the third quarter, but we dug our heels in again and got it back to 57-all, and it looked like we were dead to rights at the end."
Free State was without its top player, Khadre Lane, who did not suit up after suffering a deep thigh bruise Friday night. Blake Winslow scored 14, and Reshawn Caro added 10, including six straight in the late third-quarter run for Free State. Lansing also had four players in double-figure scoring paced by Khalil Bailey, who had 19.
---
Lansing (71)
Banks 0-1 0-0 0, Schneider 3-8 7-8 15, Gibson 5-5, 4-5 15, Carlson 1-2 0-0 2, Bailey 8-12 3-4 19, Jackson 3-7 10-12 17, Abbott 1-2 2-2 4, Lendway 0-0 0-0 0, Young 0-0 0-0 0, McQuillan 0-0 0-0 0, Figueroa 0-0 0-0 0,, Lorenzen 0-0 0-0 0, Johnson 0-0 0-0 0. Totals 21-39 26-31 71.
Free State (64)
Winslow 3-12 8-8 14, Moreano 5-12 1-1 14, Loneker 2-3 4-4 8, Hack 6-11 0-0 13, Caro 5-10 0-0 10, Garber 1-3 0-0 3, McKinney 1-1 0-0 2, Narcomey 0-1 0-0 0. Totals 23-53 13-13 64.
Lansing 18 14 17 11 11 — 71
Free State 15 16 16 13 4 — 64
Three-point goals: Lansing 3-9 (Schneider 2, Jackson 1), Free State 5-12 (Moreano 3, Hack 1, Garber 1). Turnovers: Lansing 14, Free State 13. Personal Fouls: Lansing 17, Free State 26 (Fouled Out: Caro, Moreano)
Copyright 2018 The Lawrence Journal-World. All rights reserved. This material may not be published, broadcast, rewritten or redistributed. We strive to uphold our values for every story published.