Photo Gallery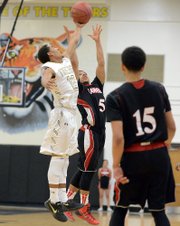 Lawrence-Blue Valley boys basketball
Stilwell — After missing his first four shots of Friday's semifinal matchup against Blue Valley in the Blue Valley Shootout — all jumpers — Lawrence High junior Anthony Bonner flipped a switch.
And it was a layup at the rim late in the first quarter that changed everything.
From 0-for-4 to 10-for-18 in less than three quarters, Bonner's 30-point night helped lead the Lions to a 69-61 victory and a spot in tonight's championship game against Topeka Highland Park.
"That's one of the best games I've played in my life," Bonner said. "But the most important thing was, my team won."
For most of the second quarter, the Lions' 6-foot-4 assassin looked unstoppable. He buried three consecutive three-pointers without moving the net. Drove left and finished with his right. Crossed over from right to left and drilled a jumper. And knocked in seven of eight free-throw attempts when the Tigers were able to slow him down.
"He was at a whole different level tonight," LHS coach Mike Lewis said. "I've seen that in spurts but not in a Friday night atmosphere like this."
Bonner was so good during the decisive run that put the Lions up 38-22 at the half and 56-38 after three quarters that he overshadowed another stellar night from his partner in crime, LHS sophomore Justin Roberts. Not that anyone, including Roberts, minded much.
"I've never seen him shoot like that in his life," said Roberts, who was asked what got into Bonner. "Whatever it was, I liked it a lot."
The Lions' third victory in three games was far from the Roberts and Bonner show. Sure, Bonner's 30 points led all scorers, and, yeah, Roberts' line of 17 points, five rebounds, five assists and two steals would've hogged the spotlight for most other teams, but so many Lions contributed to this victory, and that made the LHS dynamic duo smile the most.
Senior Connor Henrichs scored three points and was a reliable third ball-handler. Sophomore big man Price Morgan played hard around the rim and finished with six points and five rebounds. Junior starter John Barbee hit both of the shots he attempted. Junior Ben Rajewski drilled a key three-pointer and picked up a steal and an assist to Bonner that pushed Lawrence's lead back into the teens after Blue Valley had sliced it to 12 late in the third quarter. And reserves Anthony Riley and Fred Brou also added buckets and did a nice job of following the aggressive example of the LHS leaders.
"It's legit," Lewis said of Roberts' and Bonner's team-first attitudes. "They're not just telling you that. They truly understand what it takes for us to be at our best. It really is all about the team for them, and that's such a breath of fresh air."
LHS (3-0) shot 58 percent from the floor (23-of-40) and limited the Blue Valley to 46 percent shooting (22-for-48). The Lions also committed just one first-half turnover and forced eight from the Tigers.
Friday's victory avenged the bad memory of a first-round loss in last year's Blue Valley Shootout and set the Lions up with another chance at redemption tonight against Highland Park, which ran past them in the finals of last year's Topeka Invitational Tournament.
"To get to the championship means a lot," Roberts said.
Added Bonner: "It's a great feeling. I haven't won a championship in a while. I didn't get one all summer, so it'll be fun to come out and try to get one against a great team."
Just three games into the 2013 season, trying already is a given for the Lions. But the best part, in Lewis' eyes, is he knows his team wants more.
"It's great because we get to play one of the best teams in the state in December and have an opportunity to learn from it, win or lose," he said of tonight's title tilt. "Of course we wanted to get to the final. But we want to win it, too."
---
Lawrence (69)
Justin Roberts 5-10 5-8 17, Connor Henrichs 0-1 3-5 3, Price Morgan 3-5 0-1 6, Anthony Bonner 10-18 7-8 30, John Barbee 2-2 0-0 4, Ben Rajewski 1-1 0-0 4, Fred Brou 1-1 1-2 3, Anthony Riley 1-2 0-0 2, Noah Hogan 0-0 0-2 0. Totals 23-40 16-26 69.
Blue Valley (61)
Alex Peterson 0-2 0-0 0, Jalen Fulce 2-8 2-2 7, Ryan Brady 2-5 3-3 7, Mason King 4-11 2-2 10, Dakota Quinn 7-8 5-6 19, Kyle Nunnally 3-4 1-2 7, Tyler Geiman 1-3 0-0 2, Will Brennan 2-4 2-2 7, Michael Heider 1-3 0-0 2. Totals 22-48 15-17 61.
Lawrence 15 23 18 13 — 69
Blue Valley 8 14 16 23 — 61
Three-point goals: Lawrence 6-11 (Bonner 3, Roberts 2, Rajewski 1); Blue Valley 2-12 (Fulce 1, Brennan 1). Turnovers: Lawrence 9, Blue Valley 12.
Copyright 2018 The Lawrence Journal-World. All rights reserved. This material may not be published, broadcast, rewritten or redistributed. We strive to uphold our values for every story published.