Photo Gallery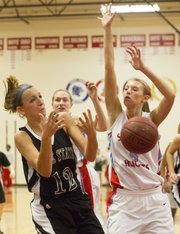 Free State girls at Shawnee Heights
Tecumseh — When Free State High's girls basketball team kept missing shots through a two-quarter drought Friday night at Shawnee Heights, it didn't surprise coach Bryan Duncan.
Though his Firebirds led after a quarter, they only made two baskets in the second and third quarters combined, leading to a 43-31 road loss.
"I think the issue is we're just relying on hoping our shots fall," a frustrated Duncan said after his team dropped to 0-3. "We're not dictating or running any sort of offense. So it's just kind of blindly hoping that shots fall … and that's not a good way to play basketball. We didn't control the tempo at all. We looked confused, and we play very basic sets right now against man or a 2-3 zone. We were never comfortable doing anything on offense."
Freshman Madison Piper scored nine of Free State's 12 first-quarter points, and sophomore Lauren Johnson's runner with less than a minute left in the first gave FSHS its only lead of the game, 12-11. Miscues and the kind of offense that drove Duncan batty followed.
The Firebirds went 1-for-9 in the second quarter, with four turnovers, and 1-for-8 in the third quarter, with three turnovers, allowing Shawnee Heights (2-0) to build a 31-20 advantage heading into the fourth.
Piper (five baskets) and Johnson accounted for Free State's first six field goals (the Firebirds made 21 percent of their 28 shots through three quarters) entering the fourth, but junior Adriana Jadlow (2-for-2 from the field in the fourth) and senior Millie Shade (3-for-3 in the fourth) gave the team its last five baskets.
Shade missed her first six shots before hitting a three-pointer with 5:30 to play. That got Free State within five points of SHHS, but freshman T-birds forward Jazz Sweet made a three-point play with a basket and free throw the next time down the floor, and the Firebirds never got any closer.
FSHS didn't have starting senior forward Scout Wiebe (injured) available in the road loss.
"Obviously we miss Scout," Duncan said, "she's a three-year starter for us. But it's definitely about more than one player. The bottom line is we've got to have more people play a lot better on both ends."
The Firebirds play host to Lansing tonight.
---
Free State (31)
Adriana Jadlow 2-4 4-12 8, Madison Piper 5-16 2-2 14, Millie Shade 3-9 0-0 7, Maren Kahler 0-1 0-0 0, Naomi Hickman 0-1 0-0 0, Hannah Shoemaker 0-3 0-0 0, Lauren Johnson 1-2 0-0 2, Morgan Gantz 0-0 0-1 0. Totals 11-36 6-14 31.
Shawnee Heights (43)
Mikala Wells 0-4 1-2 1, Samantha Hecker 1-1 1-4 3, Bailey Wells 2-7 2-4 8, Blaize Burgess 2-10 4-6 8, LaRaisha Owens 3-4 1-2 7, Jazz Sweet 5-8 1-3 11, Natalie Crossley 0-1 1-2 1, Lilly Stewart 2-4 0-0 4. Totals 15-39 11-23 43.
Free State 12 5 3 11 — 31
Shawnee Heights 11 13 7 12 — 43
Three-point goals: Free State 3-12 (Piper 2, Shade); Shawnee Heights 2-12 (B. Wells 2). Fouled out: Free State, Kahler. Turnovers: Free State 17, Shawnee Heights 12.
Copyright 2018 The Lawrence Journal-World. All rights reserved. This material may not be published, broadcast, rewritten or redistributed. We strive to uphold our values for every story published.